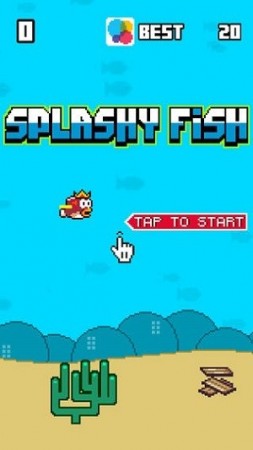 Flappy Bird's exit from game stores has now prompted its clones like Splashy Fish to take center stage, which has now navigated to the number one spot in free games on iTunes Stores.
Splashy Fish is an 8-bit style endless arcade game similar to Flappy Bird and is developed by Italian Massimo Guareschi with a three member team. The game has gained popularity among mobile gamers for its simplicity in design and unlike Flappy Bird, and has added features in the form of five trophies in the game.
Around 5 to 10 million people play it daily and about 250 million run the game told Guareschi, IBTimes Australia reported.
When asked about his inspiration, the developer said that his nephew, a fan of Flappy Bird, asked him if he could make a game with better features and the result was Splashy Fish. Released on 11 February, the game reached the top spot in 15 hours.
So, how does one play the Splashy Fish?
Similar to Flappy Bird, players will have to keep tapping the screen in order to keep it swimming. The fish will fall and die on the ocean floor if the player does not keep the rhythm of the tap. Players must help the fish to navigate the ancient columns that act as obstacles. Each pass through a column fetch you a point.
People can keep track on their friends and other high scores via leaderboards, where you can challenge other players to beat your high score. Splashy Fish is a simple game that can be played anytime and you can keep improving your score.
(Download Splashy Fish for Android platforms here and for iOS platforms here.)
Tips and Tricks for Splashy Fish to make High Score
Below are some of the features that will help a player to play the game staying alive and getting higher scores.
1. Rhythm - Players have to establish a rhythm and keep it on until they need to pass the fish through the various columns.
2. Lookout for the Columns - Keep a constant lookout for the columns while tapping rhythmatically. Make the adjustments when you see the columns.
3. Rim Shots - Players must be careful especially when they get the crown, as the game allows a little overlapping of the crown and your fish will not die, however, the game will end if you tap the fish too much when it is near the column.
4. Relax - Though these types of game will test your patience, players have to keep their cool and play the game as a fun entertainment. Players can also take short breaks if their eyes are are strained.
5. Never look at the Score - Players should never look at the score since it will distract them and the game will end.
6. Keep playing the game - Keep playing the game regularly as practise will make you perfect it.
Other details about the gameplay:
The game has five medals - Gold wings after 10 points, Crown after 20 points, gold beak after 30 points, fish turns black (Dark Knight Suit) after 40 points and Rockstar glasses after 50 points.
Players who want to turn down the sound effects can tap the screen with three fingers simultaneously and unlock the sound effects, which can be changed from 16-bit to 8 bit and back.
Hacks for iOS without Jailbreak (Splashy Fish Cheats)
1. Download iExplorer (or iFunbox).
2. Once installed plug iOS device into computer and connect it to you iTunes.
3. When iExplorer recognises the device follow this - Apps>Splashy Fish>Library>Preferences>Click the second option>Click Quick Look
4. Now, open the page in Xcode (Mac) or Notepad (PC)
5. Players have to look for "bestScore". Underneath find "[a number]".
6. Go to "fishLevel".
7. Players will find "[a number]" beneath step 6.
8. Now, change the level to 5 and customize the fish.
9. Save and quit.
10. Check the game if the fish is customised and if not, then players should restart the game app.
Hacks for iOS with Jailbreak
1. Check if the iOS device is jailbroken
2. Check if you have Cydia
3. Install and open iFile.
4. On the navigation folder, head to Splashy Fish.
5. Go to Library>Preferences> open file ending with "splashyfish.plist" and tap on "Text Viewer."
6. Scroll down to Best Score and enter the score in score number (beneath Best Score)