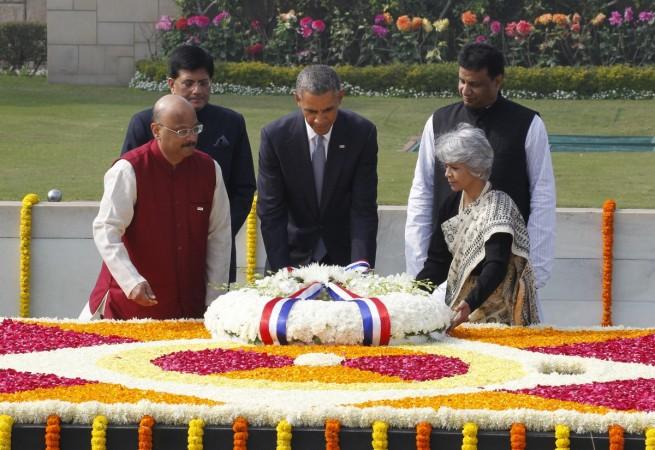 After paying homage to Mahatma Gandhi at his memorial at Rajghat in Delhi on Sunday, US President Barack Obama said that Mahatma Gandhi's spirit is "alive in India today."
"What Dr. Martin Luther King Jr. said then remains true today - the spirit of Gandhi is very much alive in India today. And it remains a great gift to the world. May we always live in his spirit of love and peace - among all people and nations," he wrote in the visitor's book at the Mahatma Gandhi memorial at Rajghat, IANS reported.
Obama paid respects to Mahatma Gandhi and placed a wreath at his memorial. He also planted a Peepal sapling in Rajghat's garden.
The US President, who is a believer in Mahatma's ideology, described Gandhi as an "inspirational figure".
Obama, who arrived in New Delhi on Sunday morning, is on his second India visit, during which he will be the chief guest at the 66th Republic Day celebrations.
Before leaving for his other engagements for the day, Obama was presented souvenirs in remembrance of Gandhi.
"We presented him a Gandhi bust, charkha, a scroll made of khadi which has the seven social sins printed on it, khadi vastra and three books which include Gandhi's autobiography, Mind of Mahatma Gandhi and Mahatma Gandhi 100 years," Secretary at Rajghat Samadhi Rajnish Kumar told IANS.
During his first visit to Raj Ghat in 2010, Obama had written in the visitor's book: "We will always remember the great soul who changed the world with his message of peace, tolerance and love. More than 60 years after his passing, his light continues to inspire the world."