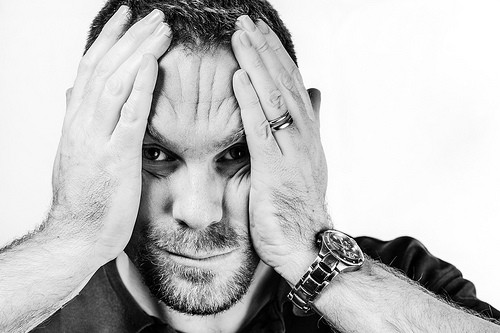 Stress is known to trigger headaches. Now, a new study says that number of headaches can vary with a person's stress levels. So having more stress in life can increase the risk of getting more headaches.
For the study, a team of researchers from Germany looked at 5,159 adults, aged between 21 and 71. During the two-year-study, researchers collected information about participants' stress levels and the total number of headaches they got. For this, participants were asked to keep a record the number of headaches they suffered every month. Apart from that, they were also required to rate their stress levels on a scale of zero to 100.
Researchers divided participants into different groups, according to the type and number of headaches they had. It included tension -type headache (31 percent), migraine (14 percent) or both (11). Participants rated their stress levels at 52, 62 and 59 respectively.
A comparison of the stress levels and number of headaches, revealed a direct link between the two and stress increased with the number of headaches. A 10-point increase in stress was associated with 6.3 percent, 4.3 percent and 4 percent increase in the number of headache days in a month, respectively for each group. Results remained unchanged even after taking into consideration certain factors that influence number of headaches, including smoking or overuse of headache drugs.
"These results show that this is a problem for everyone who suffers from headaches and emphasize the importance of stress management approaches for people with migraine and those who treat them," study author Sara H. Schramm, of University Hospital of University Duisburg-Essen in Germany, said in a news release. "The results add weight to the concept that stress can be a factor contributing to the onset of headache disorders, that it accelerates the progression to chronic headache, exacerbates headache episodes, and that the headache experience itself can serve as a stressor."
Findings of the study have been scheduled to be presented at the American Academy of Neurology's Annual Meeting in Philadelphia during April and May.
Following are some effective methods that help manage stress, provided by Mayo Clinic in the US:
Take a deep breath
Listen to your favourite music
Find some time for dancing
Participate in your favourite sport
Read books
Play with pets
Start meditation, yoga or Tai chi
Spare a few minutes for exercise
Follow a diet rich in fruits and vegetables, whole grains
Sleep properly
Try to laugh more as laughing helps release the chemical endorphins, which plays a major role in positive attitude
Say goodbye to your bad habits, including smoking, drinking and excess consumption of caffeine products