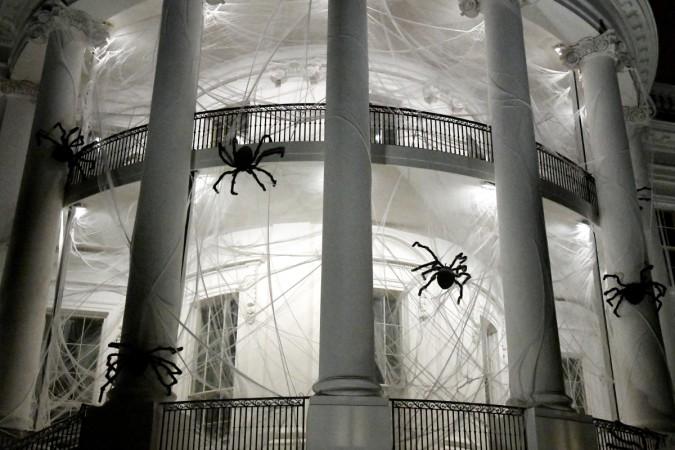 A 300-metre-long field covered with cobwebs – no, it's not a scary movie-plot or a nightmare. It's a reality for the people of Aitoliko town in Greece. The spider webs have covered almost everything in the town, which is situated near a lagoon. Starting for the trees to the road signs, here, the cobwebs have wrapped everything up.
According to the experts, these spiders most likely belong to the genus Tetragnatha. This type of spiders is generally called stretch spiders, as they have elongated bodies. These spiders can be found in many areas across the globe, including some places in American and Europe. They commonly build their webs near some water body, such as the lagoon in Aitoliko. The most interesting part is that, some species can also walk on the water. Now, that's something; isn't it?
However, before you get into full panic mode, let me tell you, these little crawlers are not harmful and these webs are a normal event. They are not dangerous for the residents or the flora of Aitoliko, Greece's Democritus University of Thrace's molecular biologist Maria Chatzaki told Greek news website Newsit.gr. "The spiders will have their party and will soon die," she said.
She also explained that this has happened before and this type of a phenomenon can occur in every couple of years.
A similar case of Tetragnatha spiders' webs was reported in Dallas, Texas too in 2015.
Now, why do these spiders do this? It's all about growing your family. As per to Chatzaki, when an animal finds out a place with high temperature, enough food and just the right amount of humidity, it's the ideal situation for them to expand their population. This web phenomenon has actually increased the population of these spiders dramatically. This web phenomenon "has arisen from a population explosion of this spider."
So, you can't really blame them for enjoying the weather and having a good time. In fact, the residents of these Greek towns are supposed to thank them, as one of things that these spiders eat is mosquitoes, which can be seen in a greater number in this area.
"They mate, they reproduce and provide a whole new generation," said Chatzaki.