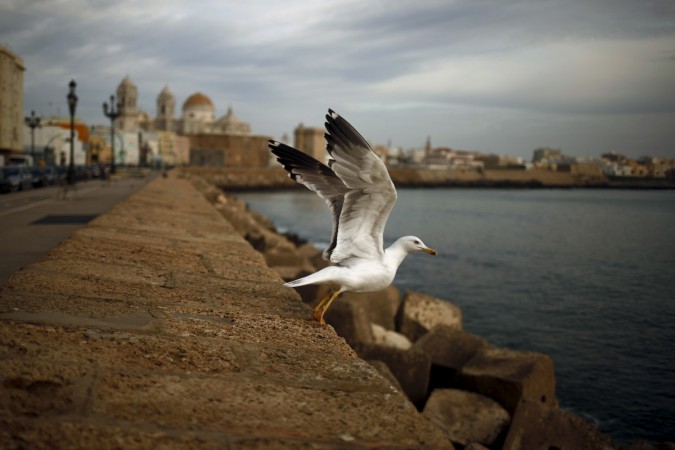 After falling into a container of chicken tikka masala, a seagull turned into bright orange. The bird was trying to scavenge meat from a food factory tub in Wales and accidentally fell into it.
As reported by the Guardian, lucky for it, some workers at the site spotted the bird and immediately called a volunteer for Vale Wildlife Hospital in Tewkesbury, Gloucestershire.
The hospital staff applied washing-up liquid to clean the thick orange curry from the seagull's feathers. Though the bird returned to its original white colour, the staff was not able to ward away the strong curry smell from it.
One of the veterinary nurses at the hospital, Lucy Kells, said: "He really surprised everyone here – we had never seen anything like it before. He had fallen into a waste vat of curry that was outside, it was chicken tikka masala. The thing that shocked us the most was the smell. He smelled amazing, he really smelled good.
"He cleaned up surprisingly well at the hospital, we used washing-up liquid a few times."
Since the news has surfaced online, the seagull and his bizarre story have taken the internet by storm as all the major news and media organisations are covering it. The bird has been nicknamed "Gullfrazie" on Facebook and the story has been shared by hundreds of users on social media websites, including Facebook and Twitter.
Kells said that the seagull is a bit skinny and probably was hungry. That is why he tried to eat the meat from the bin and the incident occurred.
"He is a bit skinny so we are building his strength up a bit. I guess that's why he was trying to get a piece of meat from the vat and fell in," Kells said.
The bird has been moved to an outside aviary where its feathers will be re-waterproofed. In a few weeks, it will be ready to fly.