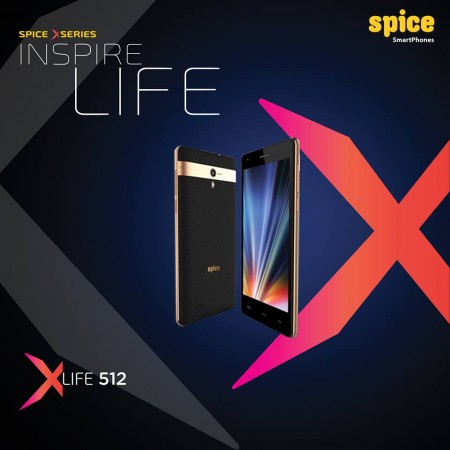 Low-budget smartphones are very popular in India and OEMs are taking advantage of the demand to attract buyers. Spice Mobiles on Wednesday expanded its budget smartphone line-up with four new models under a new brand named XLife. The pricing of all four smartphones is a major selling point, which is bound to attract first-time mobile buyers and those who are looking to switch from feature phones to smartphones.
The XLife series by Spice includes XLife 404, XLife 431q, XLife 431qLite and XLife 512, and come with different price tags.
"A large number of Indian consumers still use feature phones, hence there is huge upgrade potential towards smartphones and we are targeting first time users in tier II and III cities. We are delighted to launch our new X Life series of smartphones in Rajasthan, which is one of the largest feature phone markets in India," Spice Mobiles CEO Amandeep Singh said in a statement, Hindustan Times reported.
Starting at just ₹3,190, Spice XLife 404 wears the low-end label. The handset features a 4-inch WVGA (800x480p) display and a 1GHz single core processor coupled with 256MB RAM and 512MB expandable storage. To add more attraction, the XLife 404 sports a 3.2mp rear facing camera with LED flash and a 1.3mp front camera. The spec-sheet is rounded off with a 1,450mAh battery to power up the device.
Following XLife 404's lead is the Spice XLife 431q Lite. The specs are slightly improved compared to XLife 404 such as a 1.2GHz quad-core processor powers up the phone, which is paired with 512MB RAM and 4GB internal storage. The screen size and resolution remains unchanged, but the battery got an upgrade to 1,750mAh. For the notable upgrade, Spice is charging a reasonable ₹3,850 for XLife 431q Lite.
Spice has another model similar to XLife 431q Lite, except it features improved specs and drops the "Lite" moniker. Priced at ₹3,999, the XLife 431q packs upgraded camera module on the rear panel. The 3.2mp sensor on the Lite variant is replaced with a 5mp sensor, accompanied by a flash.
Finally, we have the Spice XLife 512 that packs highest-standard specs of all. The handset is powered by a 1.2GHz dual-core processor paired with 512MB RAM and 4GB storage. In addition, the screen size is bumped up to 5 inches with a resolution of 854x480 pixels (FWVGA). The camera has received a major upgrade to 8mp on the rear with LED flash and 2mp on the front side of the device. The battery is also the biggest and measures 2,000mAh. Despite the upgrades, the XLife 512 falls well below ₹5000 category, at ₹4,499.
All four Spice XLife smartphones have standard connectivity options including 3G, Bluetooth, GPS, GPRS and Wi-Fi. The handsets will be available via company's online and offline stores, NDTV reports.