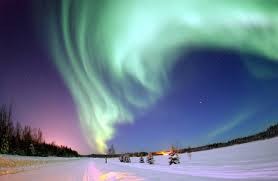 The Aurora Borealis - better known as the Northern Lights - has been mesmerising people in the United Kingdom with rare displays of spectacular lights and colours in the sky. The glittering grandiosity of lights has enthralled the country, from the north of Scotland to as far south as Essex and Gloucestershire.
The dazzling lights - most of which has been photographed and posted online - have been clearly visible in Norfolk, as well as the west coast, in South Wales.
The Aurora is a natural light display in the sky, particularly in the high latitude, mostly Arctic and Antarctic regions. It is caused by the collision of energetic charged particles with atoms in the high altitude atmosphere.
Here is a look at the top 10 most amazing pictures of the Northern Lights posted by Twitter users:
BRILLIANT ----> 'Crazy crazy auroras last night #aurora' #NorthernLights pic.twitter.com/ln5n2BldxF by @Tyrone_skies

— Blackpool Astronomy (@badas_tweets) February 28, 2014
Northern lights photographed by Brendan Diver on Feb 28 @ Clonmany, Ireland http://t.co/sIY1FDmVbc #aurora pic.twitter.com/kMlPguRilz — Observing Space (@ObservingSpace) February 28, 2014
Another awesome image RT @spottyscope: @VirtualAstro Aurora is still going strong here in the Highlands :-) #aurora http://t.co/et1CJdWG6p

— Virtual Astronomer (@VirtualAstro) February 28, 2014
Incredible #aurora over the St Andrews castle! @astrosoc_sta pic.twitter.com/1fhtuUrOzk — Steven Thomson (@PhysicsSteve) February 28, 2014
Can't believe this actually happened, I've been wanting to see the #aurora for years and it's come to St Andrews! pic.twitter.com/p5oSXzaSry

— Steven Thomson (@PhysicsSteve) February 28, 2014
@aurorawatchuk @Aurora_Alerts Taken by Innes Mackay here on Lewis tonight! What a show! #aurora #Hebrides pic.twitter.com/CBEZZ0ajAJ — Eilidh (@onthecliffedge) February 27, 2014
#Aurora over St Mary's near Fountains Abbey. By Jim Forsyth. http://t.co/FnZaww9BQF pic.twitter.com/fj31MLcnnV

— Epic Cosmos (@EpicCosmos) February 27, 2014
#Aurora over Barry, Scotland. By Ben Leng.. http://t.co/7KnsZUYyYB pic.twitter.com/YfScxDTMUA — Epic Cosmos (@EpicCosmos) February 27, 2014
Best pic I've seen tonight of #aurora #Beautiful pic.twitter.com/J3PqZOBRou

— CheesyBanjo (@CheesyBanjo) February 27, 2014
Amazing #aurora in #Northumberland right now. Taken 30mins ago. @VirtualAstro @kielder_obs pic.twitter.com/r46Jh6fq4i — Dr Jacqui Mair (@JacquiMair) February 27, 2014