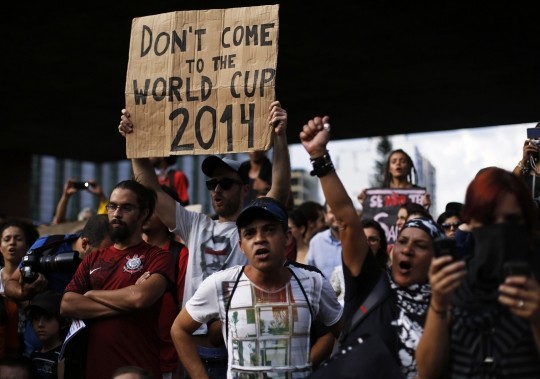 As the date for the 2014 World Cup approaches closer, the protesters in Brazil have increased their efforts to derail the event. With instances of violent clashes increasing, the Brazilian authorities in Sao Paulo have deployed unarmed Brazilian jiu jitsu squad for handling anti-World Cup protests.
The deployment of the unarmed martial arts squad seems to have been adopted from the French Police, who confronted violent protests in Paris in a similar fashion in 2005.
The Telegraph reported that the Brazilian authorities have deployed Tropa do Braço (Troop of Arms) in a recent protest demonstration in central Sao Paulo. The 140 officers confronted the protesters without weapons but instead used Brazilian jiu jitsu technique to control the unruly mob.
Violent clashes have been on the rise, and the police have been using tear gas and rubber bullets to disperse the crowd.
The protests, which in large parts have been handled by the Brazilian military - which is infamous for anti-judicial killings and use of too much force, have left several injured, including the police.
"We want to use less aggressive resources. We hope that physical force alone contains the most agitated protesters," Emerson Massera, a military police captain, was quoted by Brazilian daily - Ultimo Segundo.
There has been increasing agitations in Sao Paulo, and other parts of Brazil, were thousands have taken to the streets to protest against the spending on World Cup, while citizens have to deal with poor public services, increased bus fares and rising corruption.
The protest that has been on since June 2013 reached its peak, when a million people took to the streets across Brazil in a single day protest against the billions of dollars being spent on this year's World Cup and 2016 Rio de Janeiro Olympics.
To crush the protests, the police used random violent means, including rubber bullets and stun grenades. The military police came under severe criticism for its action.