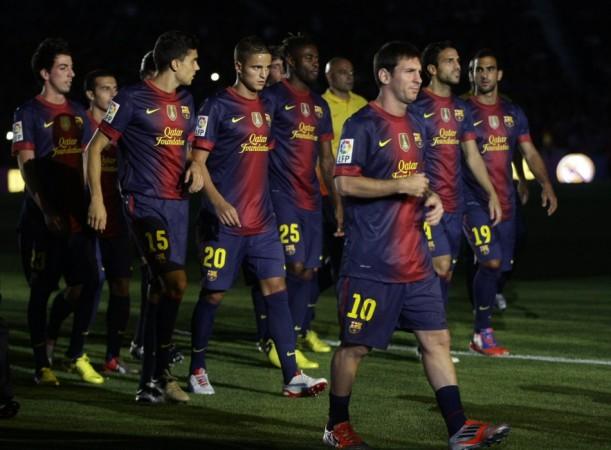 After defeating arch rival Real Madrid a couple of days ago, FC Barcelona will take on CA Osasuna at Estadio El Sadar, Pamplona on Sunday night.
Barcelona started their La Liga campaign on Sunday with a huge win over Real Sociedad. Lionel Messi scored two goals and other players like David Villa, Carles Puyol and Pedro scored a goal apiece, winning the match 5-1. They went on to beat arch rival Real Madrid 3-2 on Friday, sending out the message that they are the best.
On the other hand, Osasuna failed to make a good start, conceding 0-2 defeat to Deportivo on Monday. However, they are a team to beat at home, earning 34 of their 54 points at home in the last season. They also surprised many with good performance in the last outing.
Surprisingly, Osasuna beat Barcelona 3-2 in their last meeting on February 11, 2012. They will take the inspiration of the win into today's game.
However, Barca is still the favourite to win tonight's game in spite of playing away from home. The likes of Lionel Messi, Cesc Fàbregas, Alex Song and David Villa can turn the very course of the game.
The match between Barcelona and Osasuna will begin at 22:30 IST tonight (August 26).
Probable Lineups:
FC Barcelona (4-3-3): Victor Valdes, Daniel Alves, Gerard Pique, Carles Puyol, Jordi Alba, Cesc Fàbregas, Alex Song, Andrés Iniesta, Alexis Sánchez, Lionel Messi, Cristian Tello
CA Osasuna (4-2-3-1): Andrés Fernández, Marc Bertrán, Alejandro Arribas, Miguel Flaño, Damià Abella, Raoul Loe, Francisco Puñal, Álvaro Cejudo, Nino, Roland Lamah, Llorente