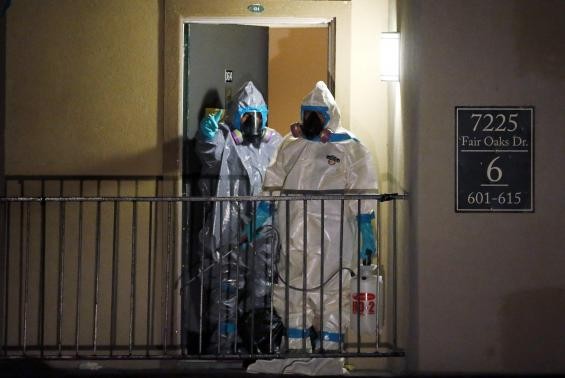 Amid all the fears and anxiety surrounding Ebola, the deadly virus that continues to kill many, here is a small ray of hope.
Latest reports suggest that a Spanish nursing assistant who had contracted the virus has been completely treated. Teresa Romero, contracted the Ebola virus while nursing missionary priests, who were sent away from West Africa, according to ABC News.
The 44-year-old was treated for about two weeks in Madrid and has now been medically declared free of the virus, the government revealed. However, she still remains quarantined at Madrid's Carlos III hospital until another test proves her to be 100% virus free.
The good news is that it has been observed that patients who have recovered from Ebola, tend to develop a very strong immunity to the virus. They are known to develop antibodies against the virus and also develop cell-mediated immunity, the website Scientific American noted in August. The use of those antibodies has lately been proved to be effective cure against the virus, no less, in Romero's case.
While it has been learnt that Romero's treatment included treatment with blood plasma from people who have been infected with Ebola, the Spanish authorities have not let out any more details.
Romero is apparently the first person to have contracted the virus via transmission outside West Africa in the current outbreak. She was working as a part of the Spain's team of health care workers who took care of the priests in August and September.
Antibodies from Cured Patients
Romero is, however, not the first person to be cured of the deadly virus. In August, two American Ebola patients, medical missionaries Nancy Writebol and Dr Kent Brantly, walked out of Emory University Hospital in Atlanta without a trail of the deadly virus.
They were the first humans to receive the experimental drug ZMapp although there are contradicting reports if the drug was indeed the reason behind their cure. Earlier also, there were instances where people have been recovered from Ebola, and good hospital care is likely more responsible for the recovery, doctors noted.
Doing Spectacularly Well
Romero specifically remembers touching a glove to her face after leaving the hospital room of Father Miguel Pajares, who died on 25 September. She apparently went into the room of Pajares twice- once to change his diaper and once again to retrieve some things after he had died.
None of the 15 people who came in contact with Romero after she started feeling feverish and before she was hospitalised have shown any signs of the virus. Her husband Javier Limon was also one of them.
"I am very happy today, because we can now say that Teresa has vanquished the disease," Limon was quoted as saying by ABC.
Maria Teresa Mesa, Limon's spokesperson told reporters that Romero was "doing spectacularly well."
Romero is yet to learn that the couple's mixed breed dog named Excalibur has been put down by Spanish authorities last week.