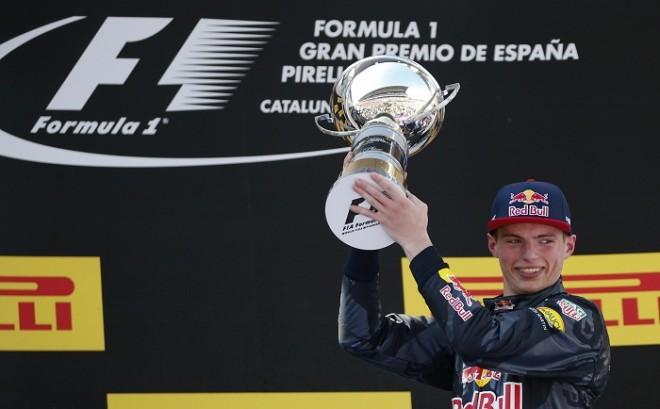 Max Verstappen grabbed everyone's attention last year, becoming the youngest driver in the Formula One circuit. Verstappen added another significant feather in his cap this season, winning the Spanish Grand Prix on Sunday, which helped him become the youngest driver (18-years-old) to win an F1 race.
It was a historic achievement for the Dutchman as only a few days ago the driver replaced Daniil Kvyat in Red Bull's cockpit. The decision has proven to be a masterstroke.
The 18-year-old started the race in fourth position in the grid, and he would have been happy to finish in the podium. But, Verstappen was given encouragement when the Mercedes drivers – Lewis Hamilton and Nico Rosberg – crashed out in the first lap.
Red Bull drivers, Daniel Ricciardo and Verstappen, took advantage of the situation and jumped to first and second place respectively.
"I just saw one car going onto the grass and as soon as you go onto the grass and you spin, then you can't do anything. I think it was Lewis unfortunately, he spun and hit Nico but I don't know why he got into the grass," F1 official website quoted Verstappen as saying.
The teenager spent most of his time in the top three during the Spanish Grand Prix, but it was in the latter stages of the race that Verstappen, who was in the lead then, was tested to the core by Kimi Raikkonen, as the Ferrari driver was going all out for his first win in 2016.
Vestappen might just be racing in his second F1 season only, but he showed great maturity to win the race despite a great challenge from Raikkonen.
"Especially in the last stint I got quite a bit of pressure from Kimi behind, but on this track it's quite difficult to overtake so for me it was a case of not making mistakes, no front locking, so that's what I tried to do and it worked. This feeling to be first... I was targeting a podium but then to win straight away, it's an amazing feeling," Verstappen said.
Such kind of racing in the final stages, with a cool head, has established Verstappen as one of the best young drivers in the F1 circuit. With it, Red Bull have become the first team in 2016, not named Mercedes, to win a race during the season so far. Nico Rosberg, who won the first four races of the season, still leads the drivers standings with 100 points, followed by Raikkonen (61) in second place.