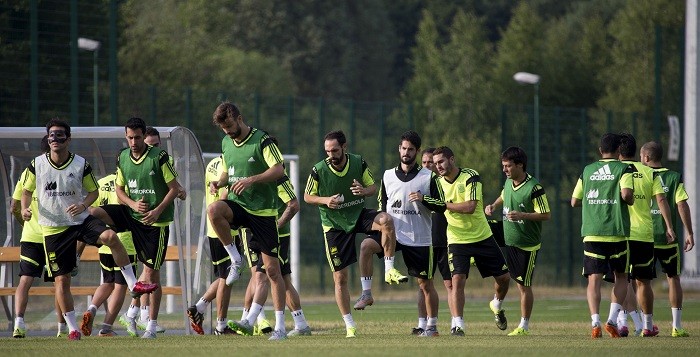 Spain will be taking on Belarus in their Euro 2016 Qualfiers match in Borisov on June 15. This is supposed to be the 100th match as La Roja manager for Vicente Del Bosque.
Spain suffered a shocking exit from the group stages in the FIFA World Cup 2014 and things have not gone their way ever since. They are currently placed in the second position in the Group C of the Euro 2016 Qualifiers, which will take place in France in 2016.
La Roja boss Del Bosque is not expecting any surprise from Belarus and is confident that his side is ready to accept any challenge. However, he is wary of the fact that Spain are currently placed behind the surprise nation Slovakia who have managed to win all the matches in the qualifier stages so far and are just above Ukraine.
"We aren't expecting a trap. This is serious football and we aren't expecting any setbacks. We've played at poor and difficult grounds before," Del Bosque told the reporters ahead of their clash against Belarus.
On achieveing this feat of the 100th match for Spain, Del Bosque felt delighted. "It was unthinkable when we took charge. Nobody had managed it, although it's true that before there were fewer games. They have been seven important years in which we've had a lot of luck. We're fortunate people. I didn't think this stage of my life would be so long and successful," Del Bosque added.
One would think of Belarus as minnows in the world of football compared to Spain, but Del Bosque is not taking their opponents lightly.
"They're a team with the resources to attack, good wide men and a powerful No. 9. However, they're known to sit deep and will make life difficult for us. We have the advantage because the pitch is very good, which favours us. We can hurt them, but we cannot make mistakes. We have to be ready for the greatest possible difficulty," Del Bosque said.
Paco Alcacer and Alvaro Morata would look to set the attacking line upfront as Diego Costa is unavailable for the match. Alcacer scored the winner against Costa Rica few days ago. Cesc Fabregas, Isco, Koke and Sergio Busquets will look to operate the midfield action. Sergio Ramos, Jordi Alba, Gerrard Pique and Carvajal will form the defence line and Iker Casillas is liklely to don the goalkeeper's gloves ahead of David de Gea.
Belarus's hope of qualfying looks bleak as they have now lost three games in a row. They have never qualfied for the finals of the Euro Cup before this and history looks to repeat itself yet again as it is highly unlikely that they will beat the likes of Spain.
Expected lineups:
Spain: Casillas, Carvajal, Pique, Ramos, Alba, Koke, Busquets, Fabregas, Isco, Morata, Alcacer.
Belarus: Chernik, Shitov, Martynovich, Filipenko, Bordachev; Hleb, Kislyak, Dragun, Krivets, Putsila, Kornilenko.
The Euro qualifiers clash between Spain and Belarus is scheduled for 9:30 pm local time (12:15 am IST, 2:45 pm ET, 7:45 BST) start with live coverage on Sony Six and Sony Six HD with online option on livsports.
Viewers in the US can watch it on ESPN with live streaming option on Watch ESPN, while viewers in the US can catch the action live on ITV1 UK.
Fans in Spain can watch it live on Movistar TV Fútbol and fans in Belarus can watch it on Belarus 2.