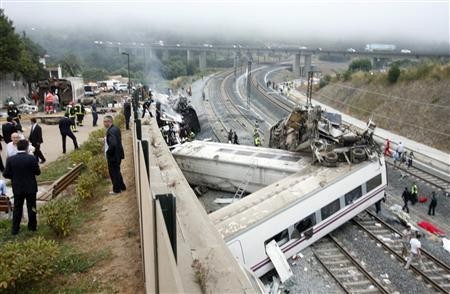 Spanish police investigating the deadly train crash which killed 80 people on Wednesday said the derailment was caused by the train running at high speeds for which the driver will be questioned.
According to reports, 52-year-old driver Franciso Jose Garzon is presently under police guard in the hospital where he has been admitted for injuries in the crash.
Maria Pardo Rios, a spokeswoman for the Galicia regional Supreme Court, confirmed that Garzo is being questioned.
"He is not being charged by a judge at the moment -- it is all at a police level," she said.
Local media reports stated that the train was said to be speeding at 190 km per hour (120 mph) when it hit the sharp curve where the ideal limit is 190 km per hour (120 mph).
The state train company, Renfe, said Garzon was a veteran train driver who had been in the firm for close to 30 years.
A video of the tragic accident was made available showed the train travelling at high speed towards the curve and crashing against the wall. Witnesses said the impact of the crash forced one the carriages several metres into the air.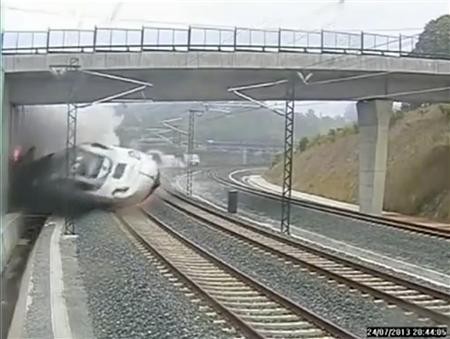 Meanwhile, Spain's King Juan Carlos visited the injured victims in the hospital. Expressing his grief, he said, "All Spaniards, we are united at this time. ... Really all Spaniards join in the pain of the families of the dead," reported CNN.
"We hope that the wounded will recover, little by little," he added.
Reports stated that 168 people have been injured, out of which 36 including four children are in critical condition.
Wednesday's derailment is considered one of the deadliest in Spain's history. The government declared seven days of mourning in memory of the tragedy.
The unfortunate incident marred the celebrations of the Catholic festival in Santiago de Compostela honouring Saint James.