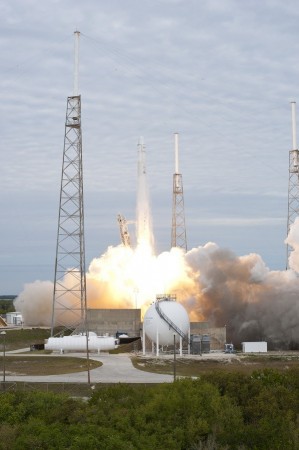 Space Exploration Technologies' (SpaceX) unmanned Dragon capsule will be docked with the International Space Station (ISS) on Sunday (3 March), after a thruster issue delayed the mission by one day.
The California-based private company's Falcon 9 rocket carrying the Dragon capsule, filled with cargo supplies, blasted off from the Space Launch Complex 40 at Cape Canaveral Air Force Station in Florida on Friday. Moments after the launch, the capsule faced trouble with its propulsion system that is required to thrust the Dragon to the space station.
The thruster issue delayed the process of docking the capsule to the station. But the problem has now been resolved, and NASA scientists announced that the capsule will be grappled on Sunday at 6:31 am EST by Expedition 34 Commander Kevin Ford and NASA Flight Engineer Tom Marshburn, aboard the station.
"The station's Mission Management Team unanimously agreed that Dragon's propulsion system is operating normally along with its other systems and ready to support the rendezvous two days after Friday's launch on a Falcon 9 rocket from the Cape Canaveral Air Force Station in Florida," NASA announced in a statement.
Once captured, the Dragon will be docked with the Earth-facing port of the Harmony module. Flight engineer Chris Hadfield of the Canadian Space Agency will use commands to bolt the capsule into place.
NASA TV will show a live coverage of the capsule being grappled at 3:30 am EST. Coverage of berthing operations will begin at 8 am.
Despite the delay in the capsule's arrival, there will be no change of plans in the capsule's return to Earth. Dragon is scheduled for a parachute-assisted splashdown in the Pacific Ocean off the coast of Baja California on 25 March.
Dragon's launch is SpaceX's second commercial resupply mission to the space station, a research laboratory orbiting 250 miles above Earth. SpaceX successfully launched its first test flight to the space station in May 2012 and sent its first supply run last October.
After the retirement of NASA's space shuttles in 2011, the space agency has signed multi-billion dollar contracts with some private companies to send cargo resupply flights to the station. NASA has made a $1.6 billion deal with SpaceX to use at least 12 of their cargo flights for space missions.
Similarly, the space agency has a $1.9 billion contract with Virginia-based private company Orbital Sciences to send eight cargo resupply flights to the space station using its Antares rocket. The first Antares rocket test flight is likely to be carried out later this year.