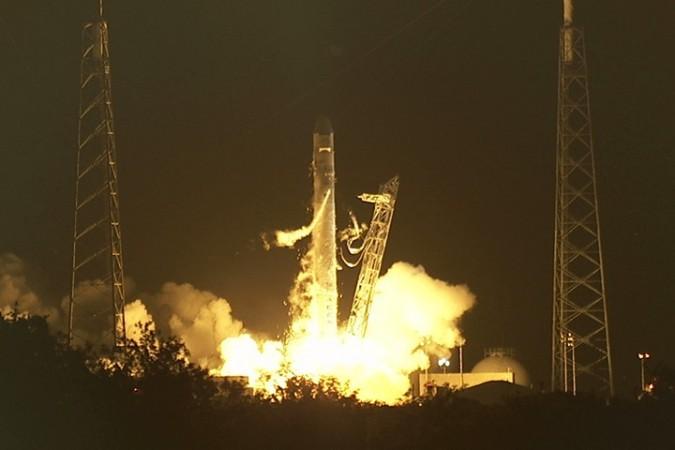 The SpaceX Falcon 9 rocket Tuesday successfully launched NASA's Dragon space capsule into the orbit at 3:44 a.m. EDT (13.04 IST) Tuesday, May 22 from a pad at the Cape Canaveral Air Force Station in Florida, United States.
According to NASA, the Dragon capsule is carrying about 1,200 pounds of supplies for the crew of international station and experiments designed by students that will be unloaded after the spacecraft reaches the station on May 24.
On reaching, the capsule will first perform a flyby at a distance of nearly 1.5 miles from the space station before the astronauts could grab it using a robotic arm and berth it at the Earth-facing port of the Harmony module.
The capsule will remain at the space station for three weeks until the astronauts unload all the equipments that were carried by the spacecraft and refill it with all the scientific equipments needed to be repaired.
"This flight is an important milestone as NASA and SpaceX develop the next generation of U.S. spacecraft to carry the critically important experiments, payloads and supplies to our remarkable laboratory in space," William Gerstenmaier, the associate administrator for NASA's Human Exploration Operations Directorate at the agency's Headquarters in Washington, said in a press release.
Earlier, the launch of the Dragon space capsule was aborted on Saturday because of an engine glitch in SpaceX's Falcon 9 rocket.
Space Exploration Technologies Corp. (SpaceX) is a California-based private company co-founded by Elon Musk, a South African entrepreneur best known as CEO of Tesla Motors.
Apparently, this is the first time a non-governmental spacecraft has been launched to the space station.
SpaceX, which will perform its own test flight later this year, has been working under NASA's Orbital Transportation Services (COTS). It also coordinates with the private companies to deliver crew and cargo to the International Space Station.
SpaceX will begin delivering regular cargo shipments to the station once it successfully completes the test flight.
"NASA is working with private industry in an unprecedented way, cultivating innovation on the path toward maintaining America's leadership in space exploration," Philip McAlister, director for NASA's Commercial Spaceflight Development, said.