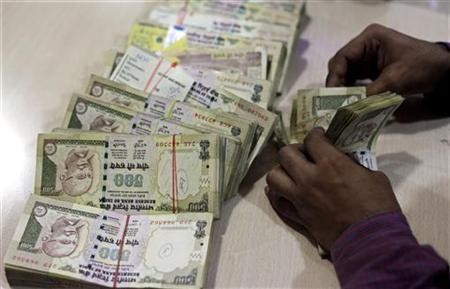 Rating agencies Standard & Poor's and Moody's have caused confusion with their contradictory ratings on India's outlook. The former cuts India's outlook from stable to negative in its latest rating while the latter says it's stable.
S&P downgraded India's outlook Wednesday on account of large fiscal deficit, not very impressive reforms, fall in stocks and rupee. The rating has been constraint by country's large fiscal deficits and debt.
"The outlook revision reflects our view of at least a one-in-three likelihood of a downgrade if the external position continues to deteriorate, growth prospects diminish, or progress on fiscal reforms remains slow in a weakened political setting," said Standard & Poor's credit analyst Takahira Ogawa.
However, Moody's has a BAA3 rating on India's outlook with a stable outlook. It is of the opinion that India still has the potential for growth in spite of the negative trends.
"The stable outlook is also telling that we clearly see negative trends in terms of growth, in terms of the fiscal metrics as well as the current account balance as well. Some of these negative trends were anticipated in the BAA3 rating. We had said for a decade now that India's key credit constraint is its weak government finances. So, what we have been seeing in terms of the fiscal outcome validates what we have been saying for a long time," CNBC-TV18 quoted Udayan Mukherjee and Mitali Mukherjee of Moody's as saying.
"In terms of the growth outlook, clearly growth has decelerated over the past several quarters. We anticipate that this deceleration is not going to recover very rapidly. At the same time, we don't expect it to be perpetual. So, our stable outlook incorporates what we see not just in the next quarter or two, but in the next 12 to 18 months. We do see a recovery there. So, that's one reason why the outlook is stable," they reasoned on rating India's outlook stable.
Meanwhile, India's Finance Minister Pranab Mukherjee said that there is no need to panic over the cut in the ratings as the government is likely to pass some reforms in the on-going budget session.
"There is no need for panic. The situation may be difficult, but we will be surely able to overcome (it)," he told reporters.
The Associated Chambers of Commerce and Industry of India (ASSOCHAM), one of the apex trade associations of India, said that the government should bring about reforms to get back to track. It added that the government should work on key legislations like Direct Tax Code (DTC) and Goods and Services Tax (GST) besides reforms.
"Fiscal consolidation is must to reverse economic indicators. This will include removing subsidies for fuel, fertilisers and social schemes," IBNS quoted ASSOCHAM secretary general D.S. Rawat as saying. "However, India remains an attractive investment destination as its growth story is based on strong and solid fundamentals," he added.