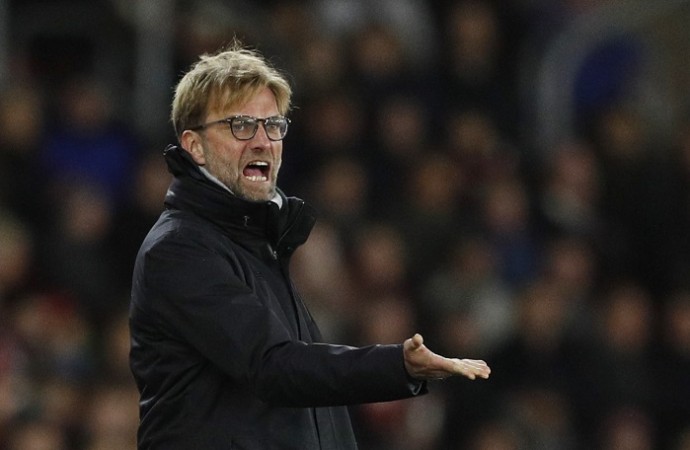 When you're 1-0 down in a semifinal and playing one of your worst games of the season, it is inevitable that the manager will do something to try and change his team's fortunes. Jurgen Klopp did exactly that, but the manner in which it all went down, on 73 minutes, of this Southampton vs Liverpool EFL Cup semifinal first leg, would have induced a chuckle or two from everyone not associated with Liverpool and a "what the heck is going on" from the Reds faithful.
Southampton vs Liverpool highlights
Indeed, that was the expression amongst most of the Liverpool players after Klopp handed a paper over to Daniel Sturridge, with the striker, then, as the match went on, going around giving instructions to his teammates on the pitch.
There were a few bewildered looks:
There was plenty of confusion as well, which did not exactly help matters, with Liverpool 1-0 down, after a first half goal from Nathan Redmond, and failing to find anything resembling their usual attacking levels.
Speaking after the 1-0 defeat to the Saints, which leaves Liverpool with plenty to do in the second leg, Klopp revealed what was in that note that was handed to Sturridge and caused so much consternation and confusion amongst the players.
Here is what he had to say:
"New system," Klopp said. "Whatever we want to call it, 3-5-2. Lucas at the back, Emre (Can) in the centre, two wingers, two strikers. Half space for (Adam) Lallana and (Philippe) Coutinho. That's all. No more information but it was enough. Maybe it was a little bit too late.
"We gave the paper when the game was already running again, that was our mistake.
"I would say seven or eight [of my players] knew immediately. Roberto [Firmino] needed a little longer [to understand]. But he was close enough to us. Things like this happen."
Would be crazy not to do something:
While the note might not have exactly helped an already difficult situation, Klopp insisted he had to try and do something to induce a better performance from Liverpool.
"What type of guy would I be if I sit outside, if we play well, I think I'm a wonderful manager, that's not like this, we tried to help," the German added.
"We thought it makes sense to have real wingers, high, make it more difficult for them to defend the wing, to have to play someone in the centre, Phil and Adam. Two strikers. Roberto with Daniel. That's all, it's not because we're frustrated."
Frustrating summed up Liverpool's performance, and now it will be down to the players and manager to perform better, much better, in the second leg.