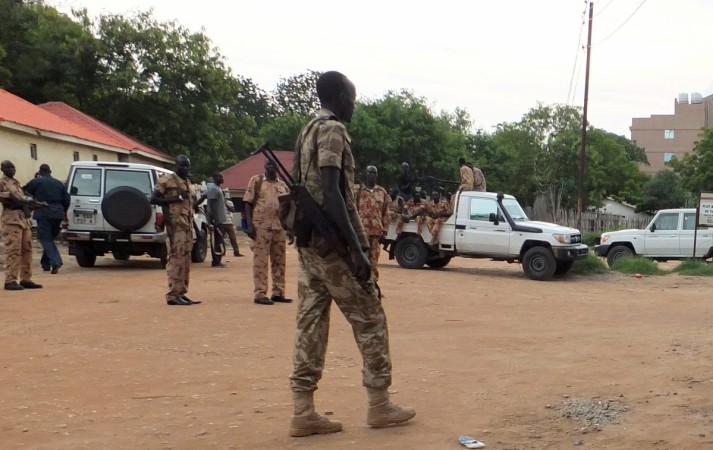 External Affairs Minister Sushma Swaraj on Monday said that India is "planning evacuation of Indian nationals" from South Sudan, where fighting between two factions has led to death of more than 300 people.
Indians were also advised to not travel to the conflict-ridden country.
The Indian Embassy in South Sudan issued an advisory on Monday for the stranded Indian nationals to stay calm as heavy fighting erupted between the Army and rebels in the African country. Swaraj retweeted the advisory that said the embassy "is in regular touch with the concerned authorities in India and all options are being considered for providing relief to Indians."
The death toll in the country has crossed 300, after clashes broke out on July 7 between Sudan People's Liberation Army in the Government (SPLA-IG) led by President Salva Kiir and Sudan People's Liberation Army in Opposition (SPLA-IO) led by first Vice President Riek Machar. Among those killed are many civilians and a Chinese peacekeeper, the Guardian reported.
"There are about 250-300 Indians in Juba. According to the reports I have received, all of them including the staff working at Indian establishments and Indian peacekeeping contingent are safe," Srikumar Menon, the Indian Ambassador to South Sudan, was quoted as saying by NDTV.
The Indian nationals in South Sudan were asked to "stay calm and await further development and inputs from the embassy."
Indian national Bhupat Patel tweeted to Swaraj on Monday, telling her about how Indians in South Sudan were living under heavy gunfire. The minister said in her reply that she has asked the embassy in the country to help him out.
Meanwhile, the United States embassy is evacuating the non-emergency employees from Juba, CNN reported. The State Department said that the situation in Juba has seen "sudden and serious deterioration."
The fighting had relatively tempered down on Saturday. However, on Sunday fresh fighting took place in Juba, the capital, leading to an increased death toll. The offensive was led by President Kiir's troops on Sunday, South Sudan-based Radio Tamazuj reported. It resulted in deaths of internally displaced people and the United Nations staff after a UN base was shelled.