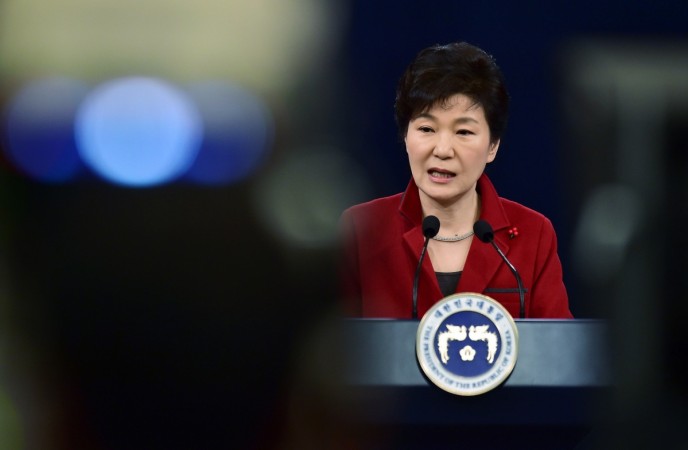 South Korea's deposed former president Park Geun-hye was arrested and jailed on Friday for her alleged involvement in a high-profile corruption scandal, which has plunged the country into a political turmoil.
The impeached president was stripped of her powers by the Constitutional Court earlier this month, ending her tumultuous four-year rule after she was accused of colluding with her close friend Choi Soon-sil to extorting big businesses.
An impeachment vote was held last December and members of her own party voted against her in a National Assembly motion. There have been massive protests against Park, with thousands taking to the streets demanding her ouster.
Reports state that a convoy of vehicles, including a black sedan carrying the impeached president, entered a detention facility near Seoul before dawn after the Seoul Central District Court granted a prosecutor's request to arrest Park.
However, many of Park supporters protested her arrest and waved national flags as her car entered the detention facility.
Prosecutors can detain Park for up to 20 days before formally charging her. The arrest is yet another setback for Park who was elected as the country's first female president in 2012 with an overwhelming support from the conservatives. Many of them hailed Park's dictator father as a hero who alleviated the poverty in the country, despite a dismal record of human rights abuses.
Even though prosecutors can charge Park without arresting her, they went ahead with the arrest anyway because of the serious allegations against her. Other suspects involved in the huge corruption scandal, her friend Choi Soon-sil and Samsung heir Lee Jae-yong, have already been arrested.
The Seoul court said that it decided to approve the impeached president's arrest as the main allegations made against her were confirmed and there were concerns that she may attempt to destroy evidence.
Park's political rival and presidential hopeful, liberal politician Moon Jae-in, praised her arrest and stated that the country has taken a step towards restoring "justice and common sense."
Park and her friend Choi have denied almost all the corruption allegations made against them. In her clarification statements, Park said that Choi only assisted her with "public relations" issues.