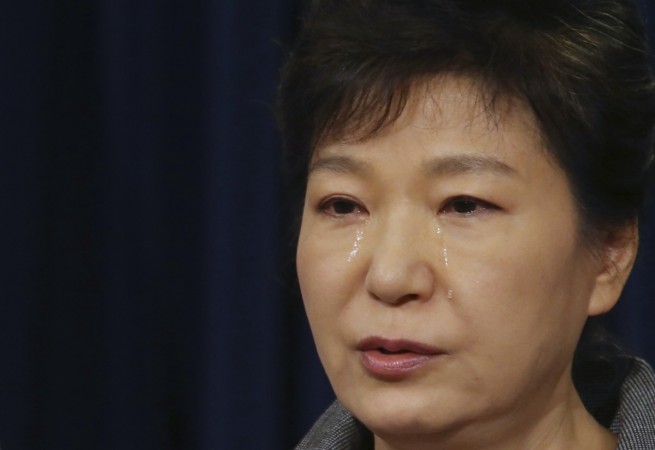 South Korean President Park Geun-hye shed tears during a live television broadcast on Monday, where the leader formally apologized for last month's ferry disaster that killed around 300 passengers, mostly school children.
Photos and video screengrabs of the televised address showed the president trying hard to pacify the citizens over the tragedy, which is considered one of the biggest ever in the nation's history. Park stated that she would break up the coast guard as it failed in its rescue mission.
"I apologize to the nation for the pain and suffering that everyone felt, as the president who should have been responsible for the safety and lives of the people," Park said in the televised national address, her first since the ferry Sewol capsized and sank with 476 people onboard.
172 people were rescued but at least 286 were killed and 18 remain missing.
Park has been hit hard by the angry outpour from the country's public, in the wake of their worst maritime disaster in 20 years, for the poor rescue operations and ineffective government response.
Out of the total passengers onboard, 339 were children who were with their teachers on a field trip from a high school on the outskirts of Seoul. Park appeared to be unable to fight back her emotions as she remembered some of the teenagers who perished in the disaster.
Park stressed there would be increased restrictions on government officials taking up jobs related to their duties after retirement. The practice, known as "bureaucratic mafia", is seen as a byproduct of the cozy equation between bureaucrats and regulators, BBC notes.
"A 20-year-old vessel was bought and refurbished to add excessive capacity, then it was loaded with much more cargo than allowed with a false reporting on weight, but not a single person in the position to supervise stopped any of it," the South Korean president said.
Park also vowed to establish a committee to look into whether the accident was caused by corruption and other regulates.
The accident showed "how big a calamity can be brought about by the abnormal practice of collusion between the government and civilians", Korea's Yonhap News agency quoted her as saying.
"The Sewol's sinking will be recorded as a hard-to-remove wound in our history. However, if we build a truly safe Republic of Korea, it can also be recorded as a new history. I believe such heavy responsibilities are given to all of us," she added.