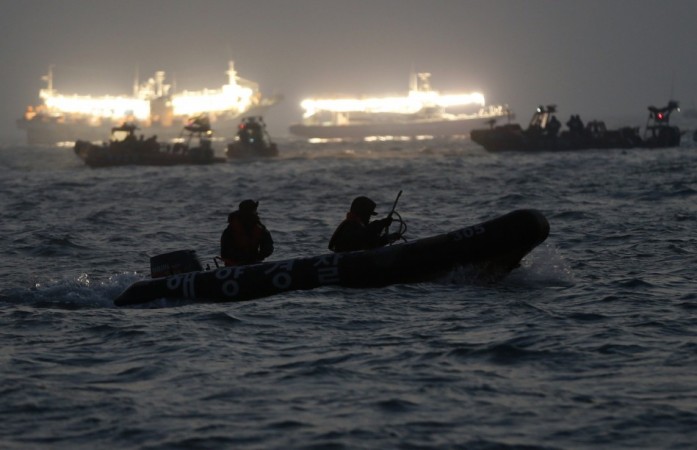 It has been revealed that the first distress call from the South Korean sunken ferry Sewol came not from the crew members, but from a boy who used a cell phone to call the country's emergency services from the ship.
The CNN reported citing South Korean coast guard, that the boy dialed the emergency number and said, "Help us. The boat is sinking." It is not clear whether the boy survived.
The report said that it was only three minutes later that the ship's crew made a distress call to maritime officials - a revelation that is likely to add more questions about the lack of action from the crew even as they are facing staunch criticism for being irresponsible. Nine of the crew members are facing charges in the sinking.
The news comes after authorities have raised questions on why an inexperienced third mate was on the wheel at the time the ship met with the accident. It is also being asked why only a few of the ferry's life rafts were deployed and why crew members ordered the passengers to wear the life vests and stay inside.
Meanwhile, the death toll from the deadly mishap jumped to 150 on Wednesday, as divers recovered 11 more bodies in their intensive search for survivors a week after what has been referred to as the country's worst maritime disaster in two decades.
According to the South Korean Yonhap News Agency, death toll from the sinking of the 6,825-ton ferry Sewol jumped to 150 as the Coast Guard, navy and civilian divers recovered the bodies from the cabins on the third and fourth decks and the third-deck cafeteria.
While rescue operation are being hampered by occasional strong currents, the government task force team handling the disaster has said that the search will continue round the clock, by mobilizing a total of 202 boats, 34 aircraft and some 550 rescue workers, the news agency said.
(ED:VS)