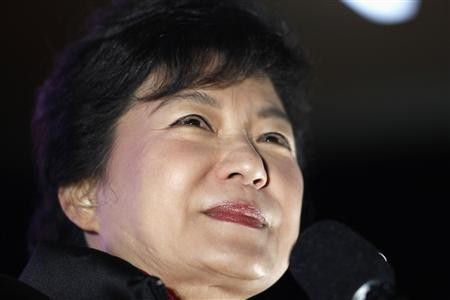 South Korean President Park Geun-hye on Tuesday called for countering North Korea "sternly and mercilessly", as the world remains vigilant on any provocative actions from North Korea after the shocking execution of leader Kim Jong-un's uncle.
Park made the comment while visiting a military unit near the North Korea border on Tuesday; her first such visit after she took office in February. The visit came amid rising fears that North Korea could resort to provocation anytime to divert the country's collective attention away from the monstrous execution of leader Kim's once-powerful uncle Chang Song-thaek (aka Jang Song-thaek).
Seoul have warned that North could make a provocative move any time to escalate tensions as it is angry with the North Korean defectors and conservatives staging rallies against the regime during the death anniversary of the current leader's father Kim Jong-il. Tensions have intensified in the Korean peninsula after Pyongyang issued a warning to strike Seoul "without notice" on 20 December.
"As we all know, the situation and security conditions on the Korean Peninsula are very grave. North Korea's internal situation is ominous and therefore, concerns are growing that the North could attempt provocations," Park told the Yonhap News Agency during the visit.
"The best way to prevent North Korean provocations is to establish watertight security readiness to make (the North) not dare think of launching provocations. However, if (the North) does launch provocations, we should deal sternly and mercilessly with them," she added.
A sense of fear and apprehension has engulfed Seoul ever since the news of the execution of Kim's uncle had filtered out to the South. On Monday, South Korea's spy agency chief reportedly said that suspicious moves from North's military were detected. North had beefed up artillery units and exercises, and could possibly launch an ambush any moment. Talks are also rife in Seoul that North Korea is ready to test another nuclear weapon any time now.
The reclusive North has been known to be unpredictable and aggressive and Seoul seems to be gearing up for a possible preemptive measure, before a fully provocative action is launched against them.
In February, North Korea warned of reducing Washington and Seoul into a "sea of fire", angered by additional sanctions slapped to Pyongyang after its notorious February 12 underground detonation of a nuclear bomb. The North and the South have technically been in the 'state of war' after the Korean War that began in 1950, and ended in 1953, with the signing of an Armistice agreement that precluded both sides from taking arms against each other.