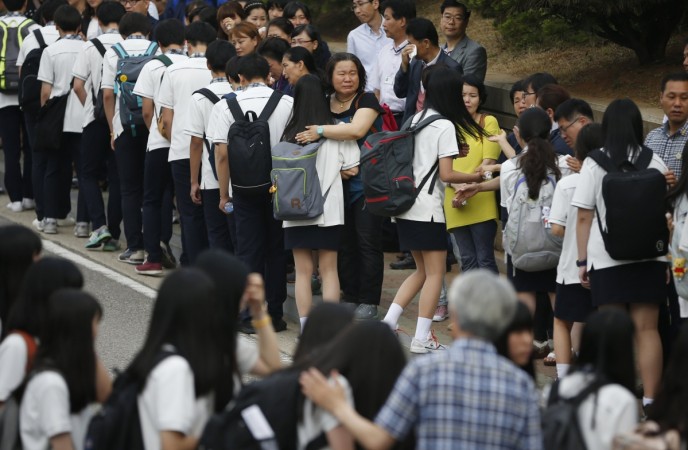 The 75 children, who survived the ferry disaster in South Korea in April, resumed their classes on Wednesday.
The students, holding hands while also fighting back tears, vowed never to forget the day they thought was their last. The emotional day also saw the sobbing parents, of the 250 children who did not survive, greeting the survivors outside the Danwoon High School.
The accident of the ferry Sewol, which capsized while on a school trip on 16 April, is considered one of the biggest maritime incidences in South Korea.
"Grownups are constantly telling us to forget and cheer up," an 18-year-old boy who spoke for the survivors told Reuters. "But we will remember and recollect our friends. Because not forgetting them is what we can do at best. Just as we will remember them, please don't forget them."
One of the posters held up by some grieving parents read: "We love you."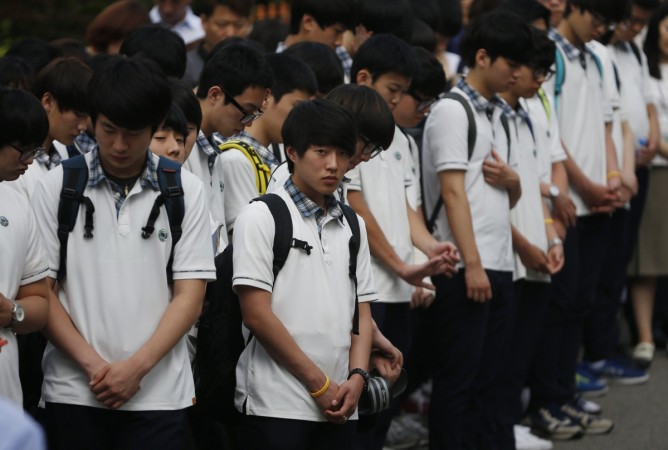 The children were taken to the school in five buses and were escorted by a police vehicle as they resumed school life after the scariest experience of their lives which occurred nearly two months ago.
According to reports, some children were also wearing bracelets imprinted with the message "Remember 0416".
The ship named Sewol sank off the southwest coast on 16 April, carrying mostly students who were on a school trip, on their journey from Incheon on the mainland to the southern holiday island of Jeju. The ship was understood to be overloaded and travelled too fast.
The captain of the ship is currently tried in a court as he is accused of abandoning the students, after ordering them to stay put inside a cabin. Most of the 325 students, who listened to the order, paid for their obedience with their lives as they were trapped when the ship sank.
"Our friends and teachers had to leave us because of irresponsible and selfish adults," said one of the students before going to class, Reuters reports.
In a video, the crew members of the ship and the captain, wearing only his underwear, were seen abandoning the ship, while the children stayed obeying his orders. The death of the 300 people has always been attributed to the crew's negligence.
Captain Lee Joon-seok, 68, and three of his senior crew members were charged with homicide, which will carry a maximum sentence of death. Two other members were charged with fleeing and abandoning ship - a charge that carries a maximum sentence of life imprisonment. Nine others were charged with negligence which will carry jail terms.
President Park Geun-hye and her government have been resentfully criticized for the slow and ineffective handling of the issue. Prime Minister Chung Hong-won resigned and Park announced the breakup of the Coast Guard following the incident.
Last month police launched a huge raid in search of South Korea's fugitive billionaire Yoo Byung-un, the ownder of the doomed ship.
Some 6,000 officers stormed a church in Anseong city, which belonged to the fugitive. Three church followers were detained in suspicion of assisting his escape