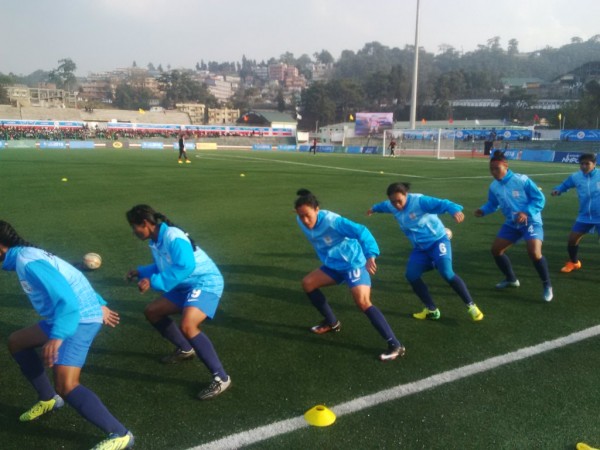 The South Asian Games 2016 Women's Football final was not only about clinching the Gold medal for the Indian Women's Football team, it was also about giving a fitting tribute to the legendary midfielder Bembem Devi, playing her last international match.
While both those expectations were ticked off, the Indian team also made sure they make some kind of a style statement. A win with style and nothing but elan.
India thrashed Nepal 4-0 in what was a complete one-sided match on Monday afternoon at the JLN Stadium in Shillong. The eves took the gold, paid a fitting tribute to Bembem Devi, created a stylish impact and also won the hearts of a plethora of Indian football fans tuned in to catch the event.
Kamala Devi started the goalscoring spree for the hosts. While the 23-year-old attacking midfielder scored the first two goals of the game, Bala Devi and Ashalata Devi decorated the icing on the cake for Bembem Devi's army.
Only a few minutes in the first half saw Nepal get into an end-to-end action with India. The visitors remained desperate to see the ball in the attacking third, but they could not deal with the Indian defence when it came to creating goalscoring opportunities.
The hosts, rather created and took innumerable chances on goal with the likes of Bala Devi, Kamala Devi and the inspirational Bembem Devi coming dangerously close to draw first blood for India.
Kamala Devi opened the scoring for the Sajid Dar-coached side in the 32nd minute. She tapped home comfortably from a pin-point cross played in her path inside the Nepal box, to get the one-goal cushion for the home side. Right after the start of second half, Kamala Devi once again volleyed home to make it 2-0 in the 56th minute.
26-year-old winger Sasmita Malik delivered a great cross to Indian striker Bala Devi in the 71st minute, and the lethal goal-poached never hesitated to tap the ball home. Ashalata Devi then came to the picture as her shot on goal from distance blasted the net in the 80th minute. That was it. All over for Nepal by then.
Bembem Devi also took plenty of potshots at the goal throughout the match but luck was not on her side, as those shots on goal were going inches wide and high of the goal. But she wouldn't rue her luck too much as the job was done in the end.
The Nepal women's football team custodian was never in her comfort zone right from the start of the match, and she had a way tougher time as compared to Indian women's football team goalkeeper Aditi Chauhan, who never really had to break a sweat in the 90 minutes of play.