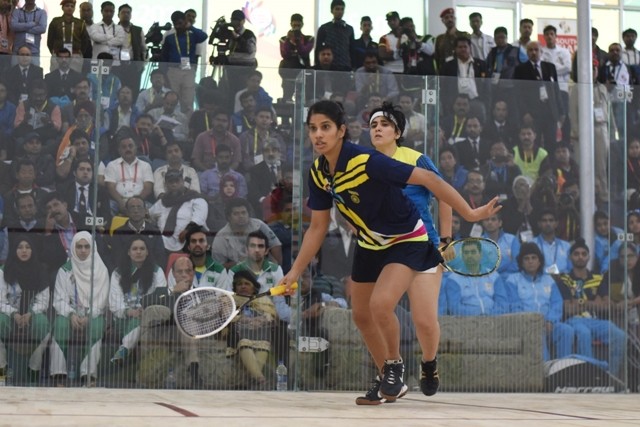 Indian star squash player Joshna Chinappa finally gave the nation its first gold in the sport on Monday, as she got past Pakistan's Maria Wazir 10-12, 11-7, 11-9, 11-7 at the R G Baruah Sports Complex in Guwahati.
Chinappa, 29, became the first Indian squash player — in both the men's and women's categories — to win gold in the South Asian Games 2016. Sourav Ghosal and Harinder Pal Singh Sandhu bagged bronze in the men's individual squash category on Sunday.
Chinappa got right back into the game after losing the first set, and bossed the next three to get past Wazir in a match which brought out the Indian's wrath against the match officials. There were several instances in the match when the two athletes collided, and Chinappa, ranked 14 in the world at the moment, said Wazir was behaving in a completely and needlessly aggressive way.
"Wazir is a good player, but she was very aggressive. Fortunately, I won the gold, but I did not enjoy playing the final," an infuriated Chinappa was quoted by the Press Trust of India as saying. "I play in the professional circuit and there, these kind of things, like a lot of interference and blocking (by the rival player), does not happen."
Wazir, 25, was moving inside the court in a very uneasy manner during the game, and that led her to collide with Chinappa and suffer an injury in her left eyebrow, causing an injury stoppage midway into the second set. There were tensions around the stands as well over the incidents taking place inside the court.
"I tried to keep myself calm, but I had to let them [match officials] know what was happening on the court. I cannot let things happening all the time," said Chinappa, who was involved in arguments with the referee on frequent occasions in the match.
"I am the kind of player who plays fair, without these interfering and blocking, etc. Doing all these is not nice for the spectators and also for the game," she added.