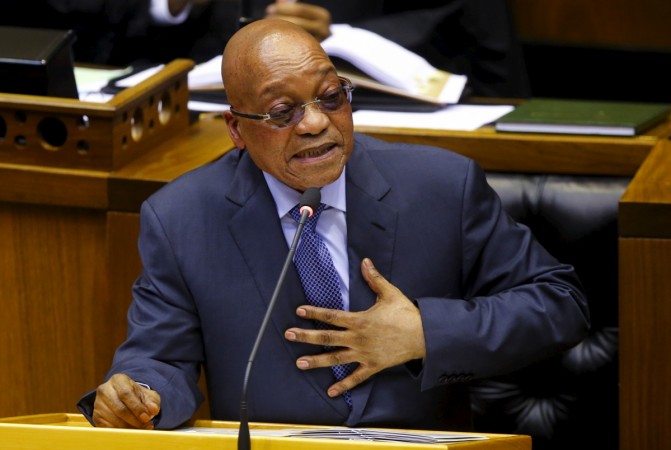 South Africa's ruling party African National Congress (ANC) said Sunday that it had confidence in scandal-hit President Jacob Zuma after a three-day National Executive Committee (NEC) meeting. The party, however, took serious cognisance of the allegations of political interference by the Indian-origin businessmen, the Gupta brothers, and launched an investigation into the matter.
Earlier, South Africa's current Deputy Finance Minister Mcebisi Jonas had alleged that he was offered the position of finance minister by the Gupta family before former Finance Minister Nhlanhla Nene was dismissed. Former MP Vytjie Mentor also said that he was offered a cabinet position by the Indian-origin businessmen, News24 reported. Former cabinet spokesman Themba Maseko was reported as saying by South African newspaper Sunday Times that the president had asked him to "please help" the Guptas by placing government ads in their newspaper The New Age.
"Such actions can have no place in the ANC or its government as they have the potential to undermine and erode the credibility and confidence of our people in the leadership of their organisation, the ANC and its government," Gwede Mantashe, the ANC's secretary-general, was quoted as saying by the Financial Times. "We reject the notion of any business or family group seeking such influence over the ANC with the contempt it deserves."
Mantashe was quoted as saying by Agence France Presse that Zuma's resignation "never arose" at the NEC meeting.
The NEC has directed officials and the national working committee to investigate the allegations against the Gupta brothers, Ajay, Atul and Rajesh.
"We will hear people talking and we will compile a list and call them to come and explain what happened. Once we have the information, it can only be that information that determines what action is to be taken," Mantashe was quoted as saying by News24.
Meanwhile, the Oliver and Adelaide Tambo Foundation, the Nelson Mandela Foundation and the Ahmed Kathrada Foundation have written letter to the ANC's NEC saying that "history will judge the ANC leadership harshly if it fails to take the decisions that will restore the trust and confidence of the people of South Africa."