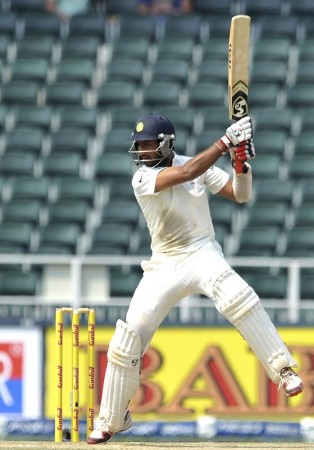 Day three of the first Test against South Africa might just be THE day that zoomed this new India Test side, without their "Big Four" and "Big Opening Two" into another level.
On a day that went India's way from start to finish, the visitors picked up a razor sharp knife and twisted it into South Africa to tremendous effect, and with it holding all the cards heading into the final two days at the Wanderers in Johannesburg.
Cheteshwar Pujara (135 n.o., 221b, 18x4), solid, immovable and assured, made the South African bowling, seriously hampered by an injury to Morne Morkel which ruled him out of this Test, and probably the next one as well, made to look like an ICC Associate member's attack, while Virat Kohli (77 n.o., 132b, 8x4) just kept belying fears of how India might cope without the great man Sachin Tendulkar.
The result of third day dominance from MS Dhoni and co. was a second innings score of 284 for two, an overall lead of 320 runs after South Africa were bowled out, quick as a cat, for 244.
In the morning, India did what South Africa managed on day two in the first Test in Johannesburg - scythe through the tail in the opening morning to send their batsmen in ASAP to do their jobs.
Ishant Sharma and Zaheer Khan continued their impressive prowess with the ball, picking off the final four wickets within the first hour of play on day three to hand India a handy lead of 36, after the Proteas finished their first innings on 244 all out in 75.3 overs.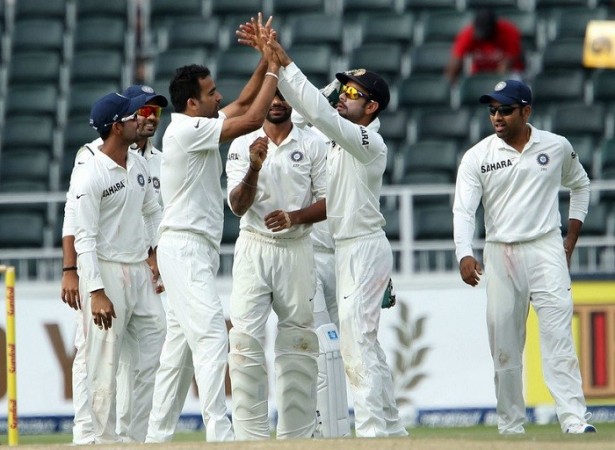 Vernon Philander, the star of day two for South Africa, kicked the proceedings off with a couple of boundaries off Ishant Sharma in the first over, taking the home side ever closer to India's total of 280.
The variable bounce in the pitch seemed to considerably increase on day three, emphasising the importance of either side going into the second innings with a lead.
It was always going to be a matter of time before India broke the partnership between Philander and Faf Du Plessis, more than happy to again play second fiddle.
It was India's most experienced bowler by a mile who would break open the smiles among the Indian camp, flowing in a delivery from around the wicket that darted in to Philander (59, 86b, 7x4) before seaming away just a little bit to take the outside edge and fall into the gleeful palms of R Ashwin, over the moon to complete the catch after dropping Graeme Smith yesterday.
That wicket ended a partnership of 80, which took South Africa from oh-my-god-we-need-to-get-out-of-this-hole trouble to whew-we-dodged-a-tricky-one-there situation, but with Philander gone, India went for the jugular.
Ishant (25-5-79-4), so impressive in his last two appearances for India, including this Test, sent Dale Steyn packing with a rearing delivery - no doubt Steyn will answer in kind later on - before Zaheer had his third wicket of the innings, inducing an edge off Du Plessis, whose sedate, yet important knock of 20 (77b, 1x4) came to an end as a result.
Zaheer (four for 88) knocked out off-stump of Morne Morkel soon after to give India some semblance of control.
India could not go into Lunch without losing a wicket as Shikhar Dhawan yet again failed to make a mark.
Philander, all warmed up after his tryst with the bat in his hand, looked as potent as ever with the red cherry in his hand, landing the ball perfectly and troubling the India openers - Dhawan and Murali Vijay - right from the word go.
Dhawan, after getting beaten a couple of times, would get an outside edge with Jacques Kallis completing the catch at second slip - Philander also reaching 100 wickets in Test cricket in only his 19th match.
Vijay and Cheteshwar Pujara saw off the rest of the overs to go into Lunch on 31 for one in 14 overs, for an overall lead of 67 runs, with South Africa worrying about the fitness of Morne Morkel, who seemed to turn his ankle just before the break.
In the post-lunch session Vijay and Pujara ate up a lot of deliveries, while not really being troubled too much by the SA bowlers.
The two Indian batsmen showed a lot of patience yet again, waiting for South Africa to tire, who were a bowler down with Morkel out of action with that ankle twist.
India were seemingly going into the Tea break just one wicket down - leaving South Africa wicketless in the session -- only for Vijay to gift his wicket to Jacques Kallis, who had to bowl quite a bit to make up for Morkel's loss.
Vijay (39, 94b, 5x4) looked to flick a ball outside leg stump but only managed to get a little tickle through to AB De Villiers.
The South Africa wicketkeeper would then provide probably the most exciting phase for the hosts by coming up to bowl in the final over before Tea as Graeme Smith grew desperate with Hashim Amla donning the gloves.
It did not quite work out, however, as Pujara and Virat Kohli picked off De Villiers comfortably to go into the break on 109 for two for an overall lead of 145.
There really was no looking back from there as Pujara and Kohli just moved up another gear, with South Africa, who have the best fast bowling attack in the world, which includes the best pace bowler in the world, unable to find any answer - the pitch also suddenly looking like a sub-continent belter.
The likes of Steyn and Philander were made to look ordinary by India's supreme batsmanship, while Imran Tahir was smashed off the park at will, with Kallis and JP Duminy also unable to do much damage.
Pujara, making up for that unlucky run out in the first innings, was calmness and ease personified, gliding his way to a hundred, his sixth and first in the Rainbow Nation, with a brilliant cover drive.
The right-hander has a habit of converting his tons into double centuries, and all signs point to another masterclass from Pujara, with Kohli, the inimitable poster boy of modern Indian cricket, not too far behind, closing in on a second hundred in the Test with India scoring 175 runs in 38 overs in the final session to rub seriously painful salt into South Africa wounds.
It is ridiculous advantage India going into day four, and South Africa will go to sleep tonight with trepidation unknown for quite a while.