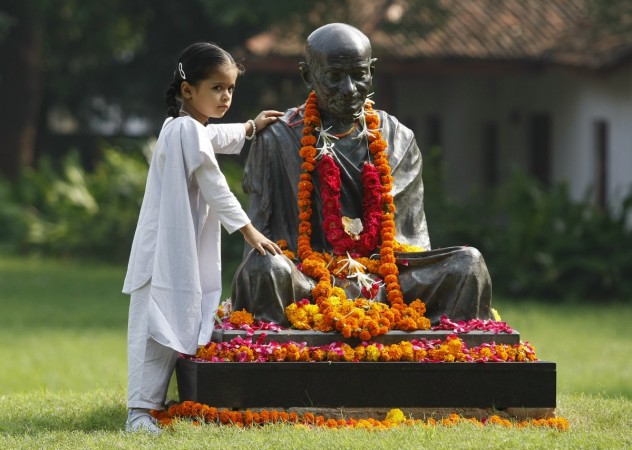 A group of hooligans spotted wearing African National Congress (ANC) caps defaced a statue of Mahatma Gandhi in Johannesburg, according to local media reports.
The hooligans reportedly threw 'litres' of white paint on the bronze statue located near the ANC office in Gandhi Square on Sunday. The miscreants, who were carrying placards that read "Racist Gandhi must fall", also defaced a nearby plaque that contained information about the work Mahatma Gandhi did in the country, South African news website Independent Online reported.
Soon the police arrived at the scene and was able catch one of the miscreants while the rest managed to flee. Local police sources claimed that the hooligans who vandalised the Gandhi statue were regulars at the ANC office.
However, ANC spokesman Keith Khoza, while condemning the incident, denied involvement of its party members. "It's not possible for anyone from the ANC to deface any statues..."
"Anyone could wear ANC merchandise. We condemn whoever was arrested and call for police to do their duty," he added.
In recent months, black youth groups have raised their anger against Mahatma Gandhi over allegations that Gandhi used a derogatory term 'kaffir' for indigenous blacks in his writings.
Following this, veteran South African Indian politician Essop Pahad had clarified at a conference on Gandhi that those remarks were made by Gandhi in his formative years and are his early perceptions of the environment he found himself in when he arrive in South Africa as a young lawyer, India Today noted.
Gandhi came to South Africa in 1893 and from 1903, lived in Johannesburg establishing his legal firm.
A bronze statue of #MahatmaGandhi was defaced by hooligans said 2b #ANC members chanted "Racist Gandhi must fall." pic.twitter.com/HlT2JOoBCQ

— Newsitis (@Newsitis) April 13, 2015