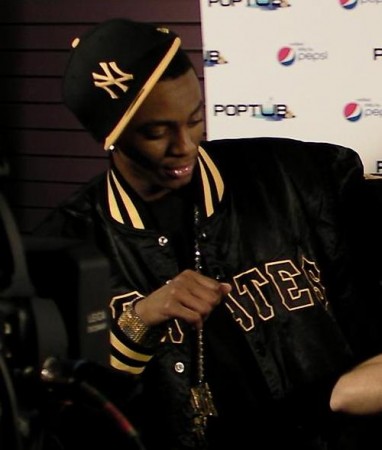 The most recent celebrity to become the victim of death hoaxes is rapper Soulja Boy. Thousands of fans took to Twitter of late, to express their condolences by tweeting "RIPSouljaBoy".
The hoax about Boy's death took Twitter by storm, and "RIPSouljaBoy" started trending worldwide. However, while people were tweeting the news of rapper's death, the latter was constantly updating his Twitter account.
"Just left my photoshoot headed to a meeting for 3 deals on new companies," Boy wrote at about 4:45 p.m. ET.
"Work harder today then you did yesterday," he wrote earlier.
Apparently, the hoax was not started by some fake news website but by some Twitter user. The person started the hoax by tweeting "Make sure you tweet it so everyone knows #RIPsouljaboy," which was retweeted a few thousand times," said Epoch Times.
Here are some of the Twitter reactions to the news:
Is Soulja Boy dead or the internet killed him? #RIPSouljaBoy

— Yo Bruh, It's Knux! (@MaestroKnux) June 24, 2014
"@BrittanyHdotcom: #RIPsouljaboy is trending. Great. Twitter is killing celebrities again" sadly I am ok with this one

— VANILLA (@ETizghost) June 24, 2014
Why does #RIPsouljaboy trend every year? What does this even mean? Who started this? I have so many questions. Lol

— βαdαss Łūmińαry 至高英雄 (@CallMeMikeDee) June 24, 2014
Interestingly, this is not the first time that the news of Boy's death has taken the internet by storm. In February 2012, the same hashtag had went viral on Twitter for no reason.
Meanwhile, Boy who is alive and kicking, recently collaborated with Drake and Nicki Minaj on "We Made It" and "Yasss Bish!" respectively.
"That track was actually an intro. Drake heard it and wanted do something with it, and we made it happen.We Made It" led to several freestyles from other rappers, most notably from Jay-Z and Jay Electronica. Even though Drake and Jay were going through their beef, it still showed I had the ability to make hits," the Atlanta rapper told theGrio's Kyle Harvey, about his collaboration with Drake.
Regarding the "Yasss Bish!" song with Minaj, Boy suggested that Yaas is an alternate way of saying yes, and he was quite cool with saying the word in Minaj's song.
"I'm comfortable enough to say 'Yass,'" Boy said. "I didn't even know it was a gay term. I'm around girls all the time, and they just kept saying 'Yass.' I'm not homophobic, so it wasn't a problem for me either way."