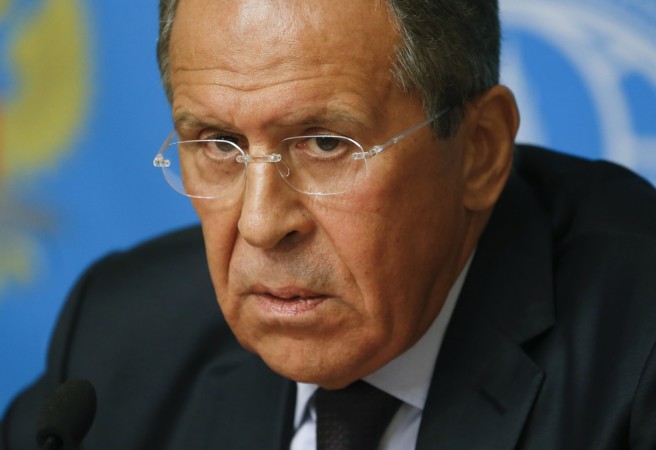 Moscow on Wednesday slammed Obama's "efforts to Isolate Russia", referring to the US President's State of the Union speech, in which he condemned Vladimir Putin's "aggression", saying Russia was isolated while the US stood strong with its allies.
"We hear from our Western partners that Russia has to be isolated," Russian Foreign Minister Sergey Lavrov said, as quoted by the Russian Times. "Specifically, Barack Obama has just repeated that. These attempts won't be effective. Russian President Vladimir Putin said that Russia will never resort to self-isolation."
The Russian minister added that cooperation between the two countries will not be possible unless the US and Russia indulge in diplomatic dialogue on the basis of equality and respect. He also urged Washington to move from "diktat" to cooperation.
"Relations between Moscow and Washington significantly deteriorated in 2014. We call for resuming effective cooperation at a bilateral and international level. But dialogue is only possible if based on equality and respect for each other's interests," said Lavrov.
Meanwhile, Lavrov on Tuesday also held a phone conversation with US Secretary of State John Kerry, stressing the need for an immediate ceasefire in East Ukraine, the Russian Foreign Ministry said in a statement as cited by TASS news agency.
"When discussing Ukrainian problems, the minister stressed the necessity to cease fire as soon as possible and start withdrawing heavy armaments of the conflicting sides from the line of contact in line with the Minsk agreements," the statement said.
This comes hours after President Obama took issue with Russia's "aggression" in Eastern Ukraine and condemned Moscow's role in the escalating European conflict, noting that the Russian econony is currently in "tatters".
"We are demonstrating the power of American strength and diplomacy. We're upholding the principle that bigger nations can't bully the small  —  by opposing Russian aggression, supporting Ukraine's democracy, and reassuring our NATO allies," Obama said in the televised address to Republicans and the Congress, the full text of which was released on Medium.com.
"Last year, as we were doing the hard work of imposing sanctions along with our allies, some suggested that Mr. Putin's aggression was a masterful display of strategy and strength. Well, today, it is America that stands strong and united with our allies, while Russia is isolated, with its economy in tatters," he said, and added: "That's how America leads — not with bluster, but with persistent, steady resolve."
In his response, Lavrov said that cutting ties with NATO was not Russia's choice, adding that Washington's attempts to isolate Moscow will fail.
"NATO followed the US in its drive for confrontation. NATO made an absolutely politicized decision to halt civil and military cooperation. Almost all projects have been frozen," said Lavrov. He also said that Moscow "will not allow a new Cold War."