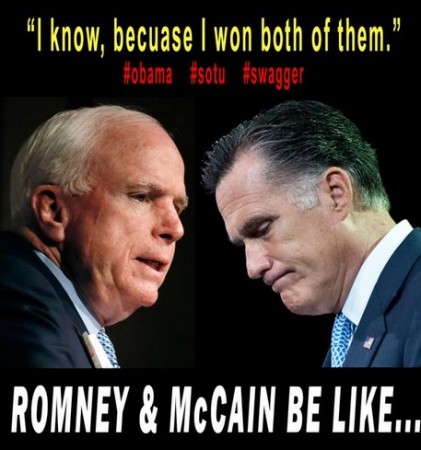 President Barack Obama hammered and silenced Republican hecklers in an unscripted moment during the State of the Union speech on Tuesday night.
The quick, off-scrip jab, which the US leader couldn't resist, was aimed at the Republicans cheering on the news of his exit from office. "I have no more campaigns to run," Obama said at one point – a statement that prompted unexpected applause which turned into a heckling against him.
But as laughter filled the packed room, Obama smartly turned it around and, with a lopsided smile, added an off-the-script line back at his critics.
"I know because I won both of them," was his quip – a comment that earned a standing ovation from many members of the congress.
No sooner had the awkward moment hit the State of the Union address, than members of Twitter erupted with jokes and memes. Here are look at some of them:
"Obama is handling the GOP like a trained comedian handles hecklers. He should do standup after this term." – Mike Ryan
"Pres. Obama smacks down hecklers who clapped at the fact he has no more campaigns to run. "I know, cause I won both of them.'"—Erich Zimmermann
"Pres. Obama could have a second career as a standup - he's got the handling hecklers thing down pat" -- @Paula_Jeanne
Laugh now, cry later... #SOTU RT @HollywoodJuan: Obama Too Real: "I know because I won both of them." *beat drops* https://t.co/P1UZ1l71T7

— Daryl Bjoraas (@dbjoraas) January 21, 2015
"I have no more campaigns to run...I know because i won both of them." #POTUSmixtape #TWIBSOTU #SOTU15 pic.twitter.com/pdhqUrVVv8 — Elon James White (@elonjames) January 21, 2015
The GOP response.... #SOTU pic.twitter.com/sEbhaYQSu9

— Ry Cooper (@kingpin7666) January 21, 2015
POTUS "I have no more campaigns to run."(Applause from 'Haters')"I know, because I won both of them."#nuffsaid #SOTU pic.twitter.com/iKKflK6tNB — Pauline Barr (@im1badrn) January 21, 2015
"I know because I won both of them." #Obama #SOTU #Swagger #Romney #McCain #OuchBabe #Bazinga #TruthHurts pic.twitter.com/KSKPpzuEy1

— Jay Janger (@jjanger) January 21, 2015