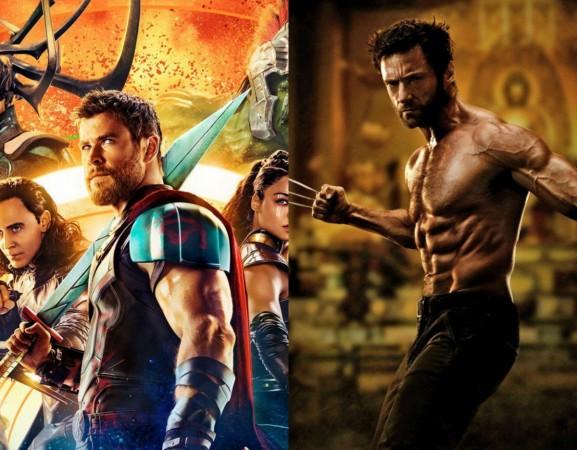 Chris Hemsworth may have hammered his way through the thunderous Thor: Ragnarok box office collections, but Australians have given their verdict that they love Wolverine star Hugh Jackman more than the Avengers: Infinity War star.
According to News.com.au, the Logan star overtakes Thor actor to become the most followed Australian celebrity on Instagram. Jackman has a total of 14.9 million followers on the social media network whereas Hemsworth has 12.4 million followers.
Although Chris fell short in comparison to Jackman, he was still far ahead of his brother and Miley Cyrus' fiancé Liam. The younger Hemsworth brother has 9 million followers.
While Thor actor is behind the X-Men star in terms of followers, Chris took home the crown for the most liked picture and most liked video posted by an Australian celebrity.
The most liked picture was of the actor decked up as the Marvel superhero walking on the sets of what looks like Thor: Ragnarok while his daughter held his finger exploring the sets. The adorable picture was posted few days after Ragnarok released with the caption: "The passing of the torch #thorragnarok."
Hemsworth took home the title of most liked video courtesy the clip featuring him calling out Jack Black. Also shared online following the release of Ragnarok, the actor was seen responding to Black's jam challenge after the School of Rock star pointed out that the idea of using Immigrant song was stolen from 2003 musical.
Chris is known for his quirky Instagram posts. His hilarious photos and videos taking a dig at co-stars, directors and even studios have made headlines this year. Remember when he called out Marvel Studios for not including him in Captain America: Civil War? Or remember his heartfelt goodbye to Mjolnir? Here's a reminder:
While he might be the second lead in the most followed Australian star this year, there are high chances he could top the list next year thanks to Avengers: Infinity War releasing on May 4, 2018. We'll have to wait and watch for that to happen. Until then, thank you, Chris Hemsworth, for making Instagram fun this year!