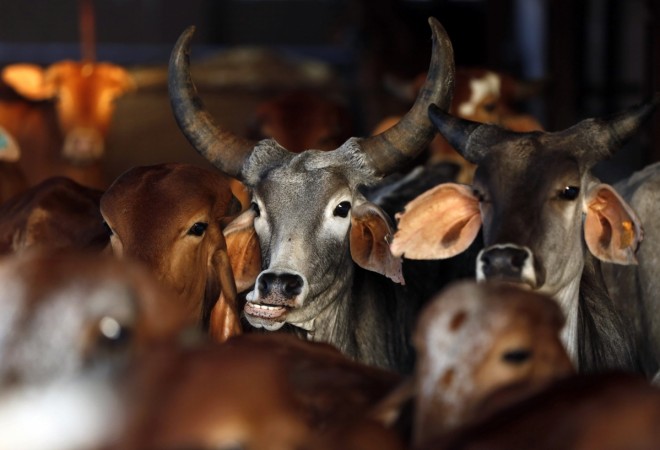 A new initiative by the animal husbandry department to improve progeny and milk production will involve tagging of all indigenous variety of cattle through Aadhaar-like identification cards. The cards will display all relevant information about the breed such as milk yield and health details.
Cow promotion
The stated objective of the programme is to double the country's milk production by 2020 and to help small and poor farmers that own 70 per cent of the indigenous cow varieties to double their income.
India has about 300 million indigenous cow varieties and out of that only about 85 million are milch cows -- those that produce milk. The milk yield per animal in India averages around 1-2 litres a day, and is much lesser when compared to cross-bred and hybrid varieties. Senior officials from the animal husbandry say that aim to increase that to at least 5 litres a day through breeding of improved varieties.
"We have completed the inter-ministerial discussion on the issue and could soon float a Cabinet note on it," Devendra Chaudhury, animal husbandry secretary, was quoted saying to Business standard.
Both the ID card and the health card scheme will be operational with the help of the state governments who will be provided funds for the programme that aims to tag all milch cows by 2020.
At present, just around 0.8 to 1 million cattle are tagged in India. Out of 14 states, Uttar Pradesh and Madhya Pradesh top the states with the large populations of cows and are expected have maximum growth.
Cow potection
In other cow related news, Haryana government on Sunday has launched a 24 hour helpline (8284030455) to report cow related offences such as smuggling or slaughter that once relayed to police officials will invite special action through dedicated special teams dispatched on the scene.
Haryana DGP K P Singh said barricades would also be put up to check cow smuggling.
The move follows the surfacing of a video on June 29, that captured two men being forced to eat a mixture of cow dung, urine and dairy products in Faridabad for allegedly transporting beef.
"We made them eat the panchgavya to teach them a lesson and also to purify them," Dharmendra Yadav, president of local outfit Gurgaon Gau Rakshak Dal, who intercepted the duo on the Kundli-Manesar-Palwal Expressway after acting on a "tip-off" was quoted as saying to The Indian Express.
Haryana state government passed the controversial Gauvansh Sanrakshan and Gausamvardhan Act last year, that allows up to 10 years imprisonment in case of cow slaughter and also makes it a non bailable offence . This strict punishment suggests a very skewed prioritization of legal punishment.
The Haryana government has also reportedly spent approximately Rs 62.5 million in grants for the construction of private cow protection shelters over 14 months. In May, the authorities had organised a bovine beauty pageant to promote domestic cattle breeds.