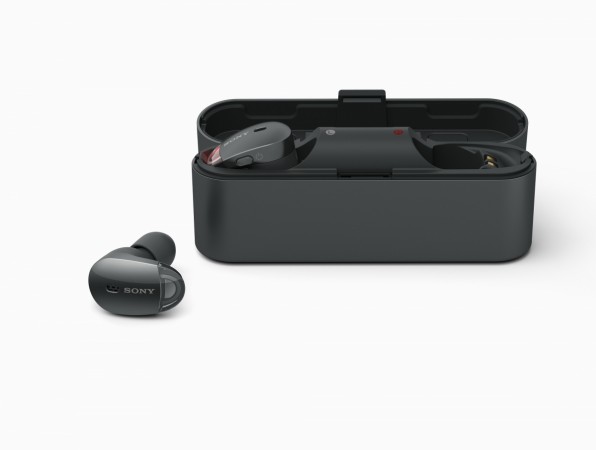 When Apple ditched the 3.5mm audio jack in its iPhones, the company pushed for wireless earphones – hence came the AirPods. But handling those tiny, wireless earplugs came with the fear of losing them.
If the idea of wireless in-ear headphones still impresses you, Sony has something you'll find hard to refuse.
Sony has introduced four new headphones, expanding its range of noise cancellation wireless headphones in India, and one of them is WF-1000X. Sure, the name of Sony's wireless in-ear headphones isn't as cool as AirPods, but the looks are more than satisfying.
Sony WF-1000X features an ergonomic design, with in-ear plugs that'll make sure the earphones do not fall out. But it's not the looks of the headphones that the company is using to lure buyers -- it's what within.
Sony WF-1000X comes equipped with noise-cancellation technology along with personal and atmospheric pressure optimisation, so the earphones adapt to the user's listening style and altitude to deliver an immersive experience.
The earphones also have Sense Engine, which enhances user's listening experience.
Sony's Sense Engine is a technology integrated within the headphones for audio signal processing and analysing techniques. The earphones offer an experience tailored to each user's preferences.
The earphones have the world's first activity recognition "Adaptive Sound Control" feature so users can listen to their tracks without worrying about their surroundings.
Since the earbuds are wireless, Sony's Headphones Connect App helps users customise the headphones to adjust to their surroundings. There are various preset profiles -- from arena to club and concert or outdoors -- within the app. If you like to make your own adjustments, there's an equaliser.
While these features certainly make Sony WF-1000X stand out in the crowd, it is hard to impress buyers with its battery life.
According to the company, the earphones can last up to three hours with a single charge, which can take up to 1.5 hours. With 15 minutes of charge, the headphones offer 70 minutes playback.
But Sony has a solution ready. The charging case that comes with the WF-1000X headphones offers two full recharges. But we are yet to test the earphones to give you the exact battery life and audio performance.
How much do they cost?
With all these advanced features, Sony WF-1000X carries a premium price tag of Rs 14,990. They are available across all Sony and other major electronics stores in India.