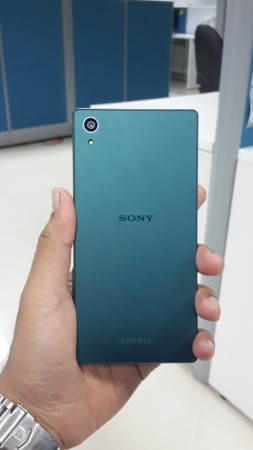 The Sony Xperia Z series is the company's flagship lineup of high-end smartphones. The Xperia Z5 Dual and Xperia Z5 Premium are Sony's latest handsets, which take on rivals such as the Apple iPhone 6S, Samsung Galaxy S6 and Galaxy Note 5.
We received the Xperia Z5 Dual for review, and the handset offers extensive features and specifications, including a high-end camera. Sony Xperia phones are known for their capable cameras that offer great features and quality images.
While reviewing the Xperia Z5 Dual, we stumbled upon some key points and features one must know while using the camera. Before we get started, here's a brief introduction to the Xperia Z5 camera. The rear-facing camera is equipped with a 23-megapixel Exmor RS CMOS sensor with 0.03-second super-fast auto focus and 5X clear image zoom without breaking any pixels. The front camera features a 5MP 25-mm wide-angle lens. We must say the camera experience has been beyond expectations, which we shall detail in our upcoming review.
Superior Auto
Part of the multiple camera apps integrated in the Xperia Z5, Superior Auto adjusts automatically to the environment to give you the best shot possible. We tested the 23-megapixel rear-facing camera in both sunlight and night scenes and got impressive results. Superior Auto is the best mode for instant point-and-shoot scenarios.
The Hybrid Autofocus technology certainly grabs short-lived moments in the blink of an eye, and doesn't lag.
Manual
The 23-megapixel primary camera in the Xperia Z5 gives a wide scope for manual photos. With this mode, you have better control over your photos. You can change different settings to match your environment. Some of the preset manual controls include night scenes, landscape and anti motion-blur.
AR Mask
Add some fun to your photos with AR Mask, which scans a face in real time and replaces it with preset faces such as those of a lion, gorilla or cat. We found the Xperia Z5 precisely scanning the face of the subject and applying the filter. AR Mask requires sufficient amount of light to scan the face, and it worked exceptionally well inside a car's interior light at night.
AR effect and 4K video
AR effect is something you must be cautious about. Although it brings some real excitement to your photos, it heats up the device and works extremely slow. Even launching the preset AR effects takes longer than usual. The result may be good to show your kids, but it may not be worth the effort needed to shoot with AR.
Another important camera mode is 4K, which is quite impressive in bringing out the best of a video. But be prepared to experience the same heating if you are recording for a long time, say during a concert, not to mention the heavy file size that gets saved.
Both AR effect and 4K video draw a lot of power, eating into the battery percentage, which has been improved in the Xperia Z5.
Physical camera button
Taking the classic route, Sony traditionally offers a physical camera button in its Xperia Z5. It is quite helpful to have a physical button, especially when you want to immediately launch a camera without having to unlock the screen. Simply hold down the camera button, placed conveniently towards the lower right hand side of the device, and the camera pops up. Also, a physical camera button can be helpful in under-water shooting of videos and photos, thanks to the handset's IP68 rating for water and dust-proofing.
Other settings
Like in any camera smartphone, Xperia Z5 also comes with several settings such as changing resolutions of images and videos, self-timer, smile shutter, preview, touch capture and grid lines.