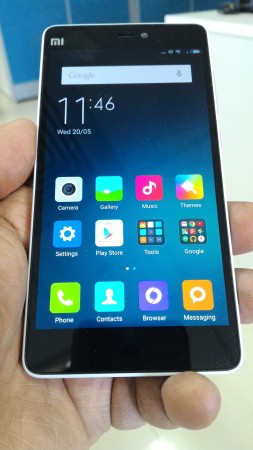 Alongside Xperia M4 Aqua, Sony has announced another smartphone for the Indian consumers. The features of the latest smartphone dubbed as Xperia C4 Dual indicate it would be priced under ₹15,000 to head on the mid budget smartphone category.
Although, the mid-budget smartphone segment is flooded with numerous devices, Xiaomi Mi 4i and ASUS Zenfone 2 ZE550ML is ruling the segment. Unveiled at the same day both the smartphone features almost at par configurations with Xperia C4.
Let's find out which smartphone offers the best price-to-specification ratio.
Built & Design
While Xiaomi Mi 4i sports a compact design with 138.1x69.6x7.8mm measurement, the other two smartphones are bigger and heavier. ASUS Zenfone 2 ZE550ML measures at 152x77.2x10.9mm and Sony Xperia C4 at 150.3x77.4x7.9mm. Boasting the same 5.5-inch display, the Sony device is much slimmer than the Zenfone 2 model. Xiaomi Mi 4i features a 5-inch screen.
Weighing 170g ASUS ZenFone 2 is the heavier smartphone among the three. On the other hand Xperia C4 weighs 147g, while Mi 4i weighs just 130g.
[Read More: Xiaomi MI 4i Review]
Display
All the three smartphones boast 1,080x1,920 pixel resolution display. While Mi 4i packs a 5-inch display, the other two models packs a bigger 5.5-inch display. The choice of display size varies from user to user. While some prefer a compact 5-inch display, others prefer 5.5-inch display for better surfing abilities.
[Read More: ASUS Zenfone 2 ZE551ML Review]
Processor and RAM
All the three smartphones pack different SoC (System on Chip) to keep themselves distinct in the competition. Mi 4i packs a SnapDragon 615 2nd generation SoC and ZenFone 2 packs an Intel Atom Z3560 SoC while Sony Xperia C4 Dual is powered by a MediaTek MT6752 SoC (visible in Lenovo A7000 and Meizu M1 Note).
All the three back the processor with a 2GB DDR3 RAM stick.
Software
All the three smartphones run on Android 5.0 Lollipop overlaid with their home-made user interface. Xiaomi Mi 4i runs on MIUI, ZenFone on ZenUI and Xperia packs Sony's TouchWiz UI.
Camera
All the three pack identical 13mp rear camera with LED flash and a 5mp front camera. We tested both camera modules of ZenFone 2 and Mi 4i and was left quite impressive by their performances.
Battery and Storage
Xiaomi Mi 4i packs a 3,120mAh battery while ZenFone 2 comes powered by a 3,000mAh battery, which is non-removable. In comparison, Xperia C4 Dual packs a comparatively weaker 2,600mAh battery.
On the storage segment, Mi 4i, ZenFone 2 and Xperia C4 Dual feature 16GB in-built storage. But Sony is a step ahead by featuring memory expandability up to 128GB compared to ASUS's 32GB memory expandability support. Xiaomi Mi 4i sacrifices the expandable support.
Pricing and Availability
Xiaomi and ASUS ties in the price point, too, by offering Mi 4i and ZenFone 2 ZE550ML for ₹12,999. Both the smartphones are currently available exclusively on Flipkart.
Sony will release the price details of Xperia C4 Dual by June, but going by the configuration of the device, we guess it should be available under ₹15,000.
Our Say
Both Xiaomi Mi 4i and ASUS ZenFone 2 ZE550ML offer decent all-round performances. The hardware combination of Xperia C4 Dual also vouches that the smartphone will provide a great performance.
Though both ASUS and Sony offer 5.5 display, the Xperia device is much slimmer than the ZenFone 2 model. However, the weaker battery of Xperia is a letdown.