Sony officially announced the Xperia M4 Aqua in New Delhi on Tuesday and hit us by surprise by unveiling the Xperia C4 Dual, the successor to the much-lauded Xperia C3 smartphone.
The launch ran for about two hours, when Sony India's head of product marketing along with other executives explained the handset's features and offered a demo. After spending quite some time with the handset, we found the handset's camera quite impressive among other features.
Here are our first impressions on the Xperia C4 Dual:
Design
In terms of design, the Xperia C4 Dual is not far away from its predecessor. With an almost identical look, the Xperia C4 Dual offers a compact and a sturdy build quality. Despite a large 5.5-inch display, we did not find the handset too big as it is lightweight and slim. The handset measures just 7.9mm thick and weighs 147 grams.
Sony has ditched the dust and water resistant certification for the Xperia C4 Dual but it is a sealed unibody like most other smartphones in the line-up. The rear panel appears to resist regular scratches but we found smudges appear on the front panel, which is not really a deal breaker.

The sides of the Xperia C4 Dual are covered in curved aluminium structure with rounded edges. The power button, volume rocker keys and a dedicated camera button are on the right side panel, while a power charging port sits on the side of the device.
Display
Sony Xperia C4 Dual features a similar 5.5-inch display as in the Xperia C3 but packs a higher resolution of 1920 x 1080 pixels. According to Sony, the Xperia C4 Dual uses Sony's proprietary Mobile Bravia Engine 2 and super vivid-mode to deliver better clarity. The handset did not disappoint us even with its IPS display, which offered great viewing angles.
Camera
Sony has clearly put a lot of focus on the Xperia C4 Dual's camera. We were impressed with the collection of interesting modes offered in the camera. Users can capture images with different settings. Various camera modes such as AR mask, Creative effect, AR fun, Face-in, Style portrait and Info eye throw in some interest for camera enthusiasts. We tested a few modes and found them quite appealing as the camera was precisely detecting the subject's face to make selected changes.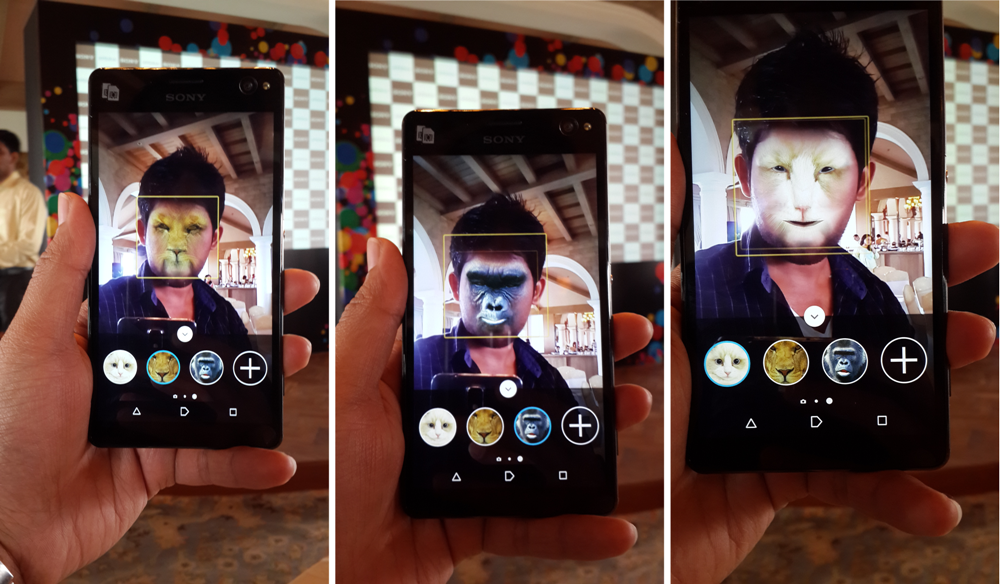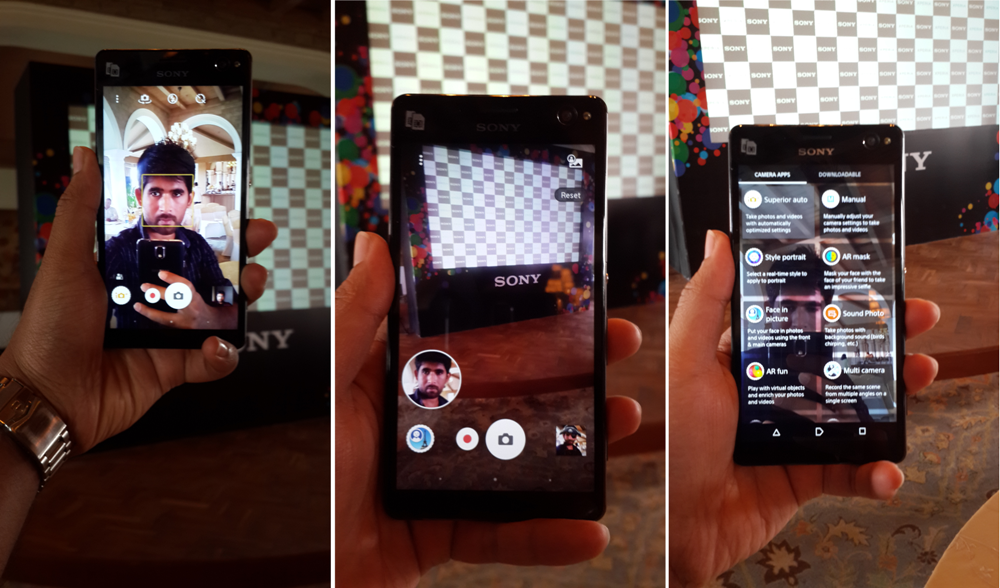 Sony Xperia C4 packs a 13-megapixel rear-facing Sony Exmor RS camera with LED flash. The videos can be recorded in 1080 or Full HD pixel format. The front camera is surprisingly great even at 5 megapixels with 25mm wide angle sensor. Sony has added a flash on the front side of the camera to give better selfies in low light. Users can also adjust the intensity of the front flash depending on how much light is needed while taking a particular snap, a feature that can be quite useful when too much brightness spoils an image. Overall, the image-clicking process was swift and we did not find a lag while snapping photos and returning to the next one.
Sony executives at the event also demonstrated some interesting features such as voice-guided selfies, where a user can take a selfie using the rear camera. This mode is quite beneficial as the user will be guided to the right position.

Battery
The battery is quite impressive in the Xperia C4 Dual. It packs a 2,600mAh unit equipped with STAMINA Mode 5.0 technology that pushes battery life by few extra hours just when the handset's power is going down. Sony claims up to 12 hours and 47 minutes of talk time or over eight hours of HD video playback. Got any favorite TV show seasons to catch up on?
Under the hood
As for the technical specifications, Sony Xperia C4 Dual is powered by an upgraded 1.7GHz MediaTek MT6752 octa-core processor, which is in turn paired with 2GB RAM and 16GB expandable storage up to 128GB. The handset also has a built-in 4G LTE modem to support high speed Internet and runs on Android 5.0 Lollipop out of the box.
Price and availability
Sony did not confirm the handset's price but promised to come up with details sometime in mid-June, when the handset will be available nationwide. The Xperia C4 Dual will be available in three colours: white, black and mint.
Verdict
We are yet to review the handset for a verdict based on performance and long term usage. But based on our first impressions, we found the Xperia C4 Dual to be an ideal handset for those who are looking for a great camera phone. Users will not be disappointed with the quality images churned out by the Xperia C4 Dual.
In addition, the lasting battery can also be a great add-on for those who travel a lot. A good camera and lasting battery is a great combination for those who like to hit the road quite often and capture memories.
Overall, we found the handset impressive.