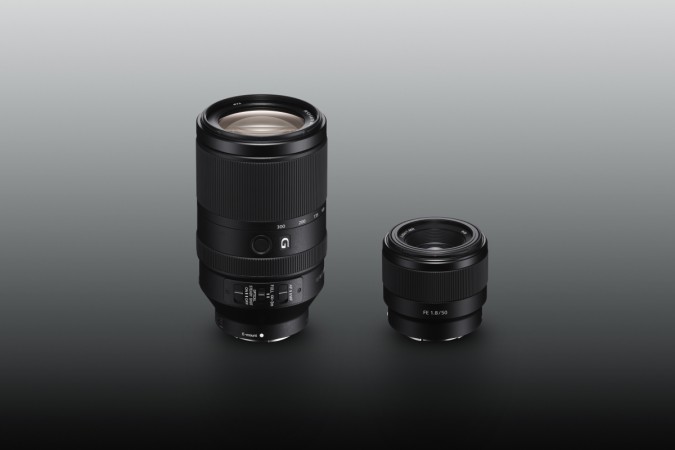 Apart from launching the RX10 III bridge camera, Sony has a few goodies for its mirrorless camera enthusiasts. The company has announced two new full-frame lenses — a 50mm F1.8 lens and a 70-300mm F4.5-F5.6 lens.
"We're continuing to build out our FE lens line-up, offering more variety than ever for today's imaging enthusiasts," said Neal Manowitz, vice president of Digital Imaging at Sony Electronics, in a statement. "Representing two of the most requested focal lengths by our customers, the new 70-300mm zoom and 50 F1.8mm prime become ideal choices for those looking to expand and enhance their Sony α kits."
Both lenses reportedly fill very specific role in Sony's lens line-up. While Sony believes that the 50mm is a compact prime lens offering great value for money, dpreview.com considers it the cheaper alternative to the Zeiss 55mm F1.8.
The 70-300mm F4.5-5.6 G OSS Telephoto Zoom Lens, on the other hand, offers the longest focal length in the Sony mirrorless E-mount line-up.
The 70-300mm F4.5-5.6 lens, according to Sony, features a "state-of-the-art optical design." The lens assembly is reported to feature four aspherical glass elements, two ED (Extra-low Dispersion) glass elements as well as Sony's Nano AR coating. Together, Sony claims to have effectively suppressed spherical aberration, distortion, and chromatic aberration.
The zoom lens also features Sony's optical stabilisation system, Optical SteadyShot, and its minimum focusing distance of three feet should give the lens some macro shooting capabilities. The lens is also moisture and dust resistant.
The 50mm F1.8 prime lens weighs 192 gm and according to Sony, "the 'normal' prime lens delivers an outstanding blend of performance, compactness and value, making it a perfect choice for hobbyist photographers and videographers."
The company said both the lenses will be available in May, with the 70-300mm lens costing $1,200 and the 50mm lens costing $250.