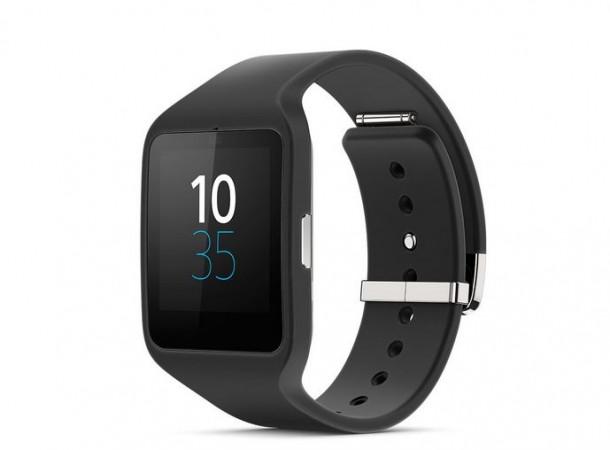 Japanese consumer electronics giant, Sony officially launched the company's smart-wearables - SmartWatch 3 and SmartBand Talk – in India on Monday, 19 January.
"After leading the market since 2007, SmartWatch 3 is Sony's latest generation SmartWatch, but the first specifically designed for the latest Android Wear updates in close collaboration with Google. This partnership matches Sony's leadership in smart, wearable products with Google's software and platform expertise to create a unique wearable experience founded on both hardware and software innovation," said the company.
Sony SmartWatch 3 is powered by Google's Android Wear OS and is backed by 1.2GHz Quad-core ARM A7 SoC (System on Chip) with 512MB RAM and 4GB eMMC memory. It also boasts of IP68 water-proof certification, built-in microphone, Accelerometer, Compass, Gyro and GPS sensor technology.
On the other hand, Sony's smart fitness tracker dubbed as SmartBand Talk features a innovative curved 1.4" e-paper display that is highly visible and clear, giving you always-on updates of your Lifelog activities, notifications as well as tell the time at a glance.
It also features built-in microphone and speaker, paired with a short call function, which lets user to talk into it and hear your caller.
And the new built-in accelerometer and altimeter sensor technology provide an accurate overview of the user's daily physical activity. It also boasts of IP68 water-proof certification.
[Note: IP65/68 certified Sony SmartWatch 3 and SmartBand Talk can survive close to five feet (1.5 meter) under-water (fresh) for around 30 minutes provided all open ports are closed by flaps which come in the package]
Both Sony SmartWatch 3 and SmartBand Talk are now available at Sony Centre and other major electronic stores across India for ₹19,990 and ₹12,990 respectively.
Key Specifications of Sony SmartWatch 3:
| | |
| --- | --- |
| Model | Sony SmartWatch 3 |
| Display | 1.6-inch Transflective screen with 320x320p resolutions |
| OS | Google Android Wear |
| Compatibility | Optimised for devices running on Android 4.3 later |
| Processor | 1.2GHz Quad-core ARM A7 CPU |
| RAM | 512MB RAM |
| Storage capacity | 4GB eMMC |
| Battery | 420 mAh (can run the device up to 2 days under normal usage) |
| Add-ons | Bluetooth v4.0, NFC, micro USB, Voice, touch & gesture input, built-in microphone, accelerometer, ambient light sensors, compass, gyro and GPS sensor technology, IP68 water-proof certifications |
| Colors | Black |
| Weight | 45 g |
| Price | ₹19,990/- |
Key Specifications of Sony SmartBand Talk:
| | |
| --- | --- |
| Model | Sony SmartBand Talk |
| Display | 1.4-inch black and white E ink display with 296x128p resolutionsPixel density: 192 dpi (dots per inch) |
| Compatibility | It is optimised to work with SmartWatch 3 and devices running Android 4.4 KitKat OS (and above), got to have installed Lifelog app and SmartTalk app; |
| Add-ons | Bluetooth 3.0, micro-USB, IP68 certifications, Voice, tap & gesture input, built-in microphone, accelerometer, altimeter, |
| Battery | 70 mAh (can run the device for close to 3 days under normal usage) |
| Colors | Black |
| Dimensions | Width: 23.5 mmThickness: 9.5 mm |
| Weight | 24 g |
| Price | ₹12, 990/- |