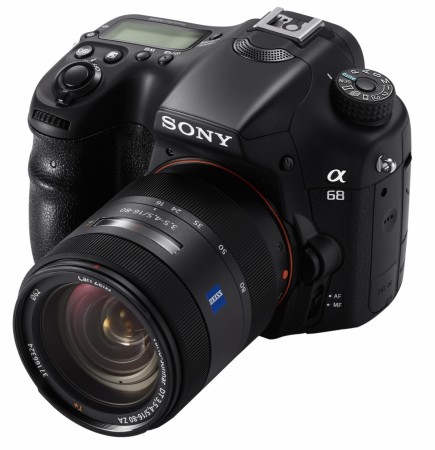 Adding to the recent slew of releases in the imaging category, Sony has launched the A68 with an APS-C-size sensor in India. It adds to the company's line-up of single lens translucent (SLT) cameras, Sony's proprietary design.
SLT cameras, unlike single lens reflex (SLR) cameras, eliminate the mirror that bounces the image up to the viewfinder. Instead, Sony's SLT cameras have a fixed translucent mirror that bounces some of the light to a phase-detection autofocus (AF) sensor. The rest of the light strikes the imaging sensor.
The A68 SLT camera is compatible with A-mount lenses developed by Sony as well as ZEISS, and captures 24 MP images. The camera's USP is the 79 point AF system, which Sony calls 4D Focus. The AF system reportedly covers a wide area and the predictive tracking feature locks on to fast-moving subjects. The translucent mirror, because it remains stationary, allows the A68 to snap up to 8 images a second. Sony's SteadyShot INSIDE, the camera's in-body image stabilisation system, optically stabilises images.
Images can be framed using the camera's OLED (organic light emitting diode) Tru-Finder, which according to Sony offers 100 percent viewfinder coverage. The camera also features a 2.7-inch tilting LCD screen. It also has a more basic backlit display near the shutter button that displays basic information.
The images are processed by Sony's BIONZ X processor, the same one that's found in their full-frame A7 mirrorless cameras. The camera has an ISO that ranges between 100 and 25,600. It shoots full HD 1080p video at 24, 25 and 30 fps and records high-quality video at 50Mbps.
Ergonomically, the camera features 10 programmable buttons as well as control wheel at the back. The camera has an additional dial around the front.
The Sony A68 is priced at Rs. 55,990 for just the body. The camera can also be purchased with an 18-55mm lens for Rs. 59,990. When bundled with the 18-135 lens, the camera costs Rs. 85,990.