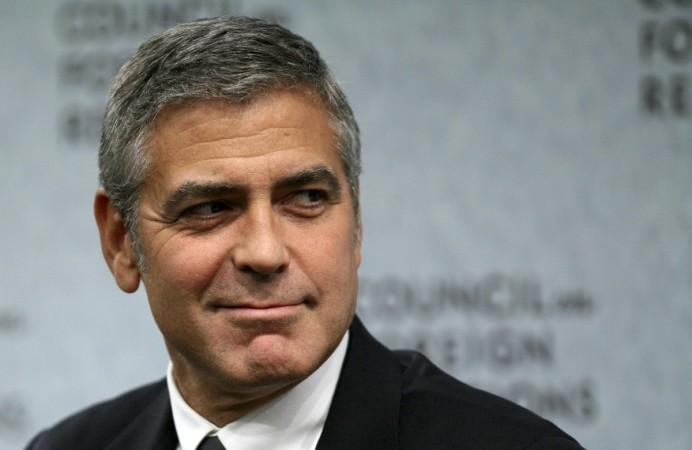 'Gravity' star George Clooney has urged his Hollywood colleagues to take a stand against the Sony hackers and push for the immediate release of 'The Interview'.
The 53-year-old actor said that most celebrities and Hollywood figures are afraid to sign the petition calling for the immediate release of the movie that features an assassination plot for North Korean leader Kim Jong-un as they fear dire consequences. The Sony hackers, suspected to be supported by North Korean authorities, threatened the industry with serious consequences if the movie is released.
In his petition, Clooney wrote: "We know that to give in to these criminals now will open the doors for any group that would threaten the freedom of expression, privacy and personal liberty ... we will not stand in fear," TMZ reported.
'The Idea of March' actor and his agent, CAA's Bryan Lourd, distributed the petition to famous celebrities in the film, television, record and other sectors of the industry. But, to the disappointment of the two, none came forward to sign it. Clooney told Deadline that people are just frightened that they will also meet the same fate as Sony Pictures' movie chief Amy Pascal and top producer Scott Rudin.
Clooney told Deadline: "A good portion of the press abdicated its real duty. They played the fiddle while Rome burned. There was a real story going on. With just a little bit of work, you could have found out that it wasn't just probably North Korea; it was North Korea... Here, we're talking about an actual country deciding what content we're going to have. This affects not just movies, this affects every part of business that we have. That's the truth. What happens if a newsroom decides to go with a story, and a country or an individual or corporation decides they don't like it?"
He further said that the most "brilliant" part of the hackers' plan was that they first released embarrassing mails so that they are safe as no one will come after them after the media is buzzing with the news of Pascal and Rudin's opinionated mails.
In the end, Clooney suggested: "Stick it online. Do whatever you can to get this movie out. Not because everybody has to see the movie, but because I'm not going to be told we can't see the movie. That's the most important part. We cannot be told [we] can't see something by Kim Jong-Un, of all f***ing people."
Meanwhile, celebrated actor Sean Penn said that he wants the Unites nations Security Council to take action against the hackers. He warned that terrorist group Islamic State might be the next to threaten and try to censor the country's freedom of expression.