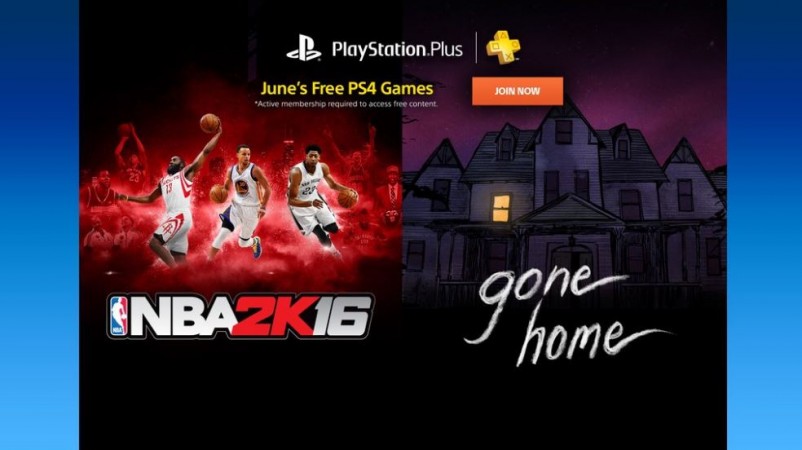 Sony has announced a strong line-up of video games that will be available free of cost to members of PlayStation Plus. The games will be available from June 7.
The line-up includes the following games:
"NBA 2K16," PS4
"Gone Home: Console Edition," PS4
"Echochrome," PS3
"Siren: Blood Curse" (Episodes 1-12), PS3
"God of War: Chains of Olympus," PS Vita
"Little Deviants," PS Vita
With the hype surrounding the NBA Finals, Greg Lewickyj, PlayStation Plus content partnership manager, writes in a post on PlayStation blog that it has teamed up with 2K to add the NBA 2K16 to the June list of games, making it an impressive line-up as it includes AAA games and also the indie ones.
"NBA 2K16" offers players with offline modes like MyCareer and MyGM, and online modes like MyTeam and MyLeague.
Another important game that is part of the line-up is "Gone Home: Console Edition." This is an adventure exploration video game that was developed by Midnight City.
"Echochrome" is from the developer, Game Yarouze, and SCE Japan Studio. It is a puzzle game that allows players to control a moving character. The game was released to PlayStation Store in May 2008.
"Siren: Blood Curse" is a survival horror video game from the Japanese developer, Project Siren, which was available on PlayStation 3 in 2008.
"God of War: Chains of Olympus" was released in March 2008 for PS Vita from developers Ready at Dawn and SCE Santa Monica Studio.
"Little Deviants" was released in February 2012 for PS Vita. It is an arcade game developed by Bigbig studios.