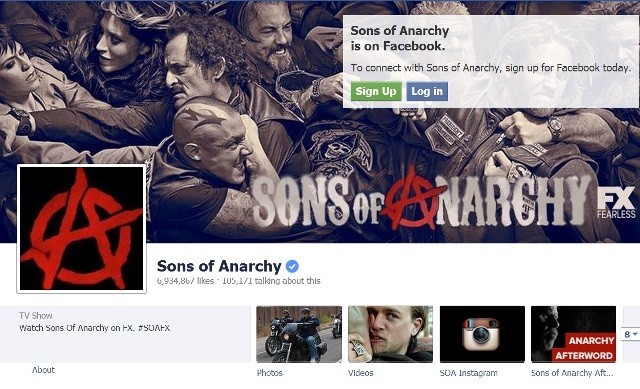 The trailer of "Sons of Anarchy" season 7 has been released. The exclusive trailer of FX's biker drama showed SAMCRO president Jax Teller (Charlie Hunnam) rumbling that he has lost his wife Tara and now he is not going to loose his club.
It's being speculated that season 7 would be a spectacle of vengeance, where Jax would avenge the death of his wife.
The trailer also showed a new sheriff joining the town. Annabeth Gish plays Sheriff Jarry who soon realises that City of Charming is not as trouble free as it seems, as per the reports.
Courtney Love, Lea Michele and Marilyn Manson will also join the cast.
Apparently, "SOA" creator Kurt Sutter knew in season 2 that Tara would die before the finale.
"I knew as early as season two that Tara would die before the final season. I didn't quite know exactly, obviously, how it was going to happen in terms of story. I just knew in terms of a mythology mile marker that that's when it was going to happen," Sutter revealed according to TV Line.
Teller's character graph is going to meet an all time high in season 7. He is going to have major emotional shift, as per the reports.
"I wanted to remove [Jax's] 'True North,' because I feel like there needs to be this major psychic and emotional shift that has to happen. What direction it will push him in we will see next season. But what happens to a guy like that now that he's lost both of the people he loves the most, who were able to be his moral compass, with Opie and now Tara. It really is Jax completely untethered and on his own in the final season," said Sutter.
It is reported that season 7 will open with Teller locked up in jail. It is also suggested that Tara's spirit will be present all through the season. Teller's mother Gemma might be seen talking to Tara's spirit. It is Gemma who killed Tara in season 6, but Teller is yet to know the shocking truth.
Juice played by Theo Rossi helped Gemma to clean the crime scene and now a new relationship is expected to bloom between the two.
"I don't think it was a calculated move on Juice's part [to save Gemma]; in the moment he did what was expected of him," he said of Juice, adding, "But now the great thing is that we get this rich dynamic between the two of them. They were tied with the whole Clay of it all and now they're deeply tied with this secret. Now we have really something fun to play with."