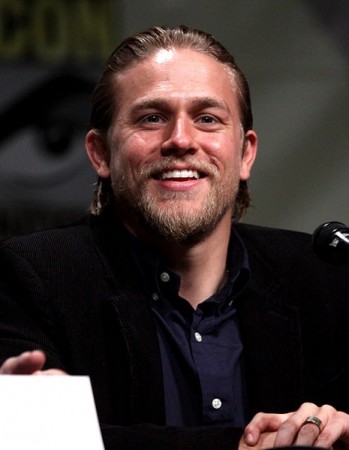 "Sons of Anarchy" fans are wondering whether Jax Teller, played by Charlie Hunnam would be spending some jail time in the last season (Season 7) of the series. The season 6's finale showed Tara's death and it is being speculated that with it a lot of things are going to change in Teller's life.
What adds more to the conjecture is Hunnam's recent spotting in the staple orange colored jail jumpsuit.
On Monday June 9, Hunnam was seen walking out of the sets of "Sons of Anarchy" in the customary jail dress with "SJCCF" written on the pants, which stands for San Joaquin County Correctional Facility, reported Just Jared.
Speculation about Hunnam's character being locked up in the jail does bring Marilyn Manson's character in perspective. Manson would be seen playing the white supremacist prison shot caller, as per reports.
Apparently, Teller would be using Manson's character to increase his power base.
Buzz also suggests that Aaron Paul who plays Jesse Pinkman in "Breaking Bad" could have a guest appearance on "SOA". Though there is no confirmation to the rumor, creator of the show Kurt Sutter did hint about Paul's inclusion in his interview with Vulture.
"There's a lot of similarities and thematic things that are just going to feel similar because you're dealing with guys who break the law but still have some sense of conscience and the characteristics of antiheroes," he said.
"I know that there'll be overlap, and I know that there will be similarities to the way my show ends and the way Breaking Bad ends and I'm sure the way Boardwalk ends, but you really can't start thinking in terms of, "Well, I don't want to do it that way," or "How can I be different?" because then you're ultimately putting unnecessary handcuffs on your process," Sutter said.
Meanwhile, Sutter had also revealed earlier in one of his tweets that an ally of Samcro would be returning to the city of Charming.
"GRIM BASTARDS on S7 of SOA. looking forward to seeing @MikeABeach. i'm fascinated by the delicate racial balance that exists between MCs," Sutter tweeted.
Moreover, in regards to "Sons of Anarchy" coming to an end, Sutter suggested that fans would be satisfied with the series finale.
"I think it will be a satisfying conclusion for fans," Sutter said video blog, adding, "And I feel pretty good that it's staying on point in terms of where I always envisioned our character, our hero, what his final, perhaps final days in Charming ... in terms of the ones that, as an audience, we would see."