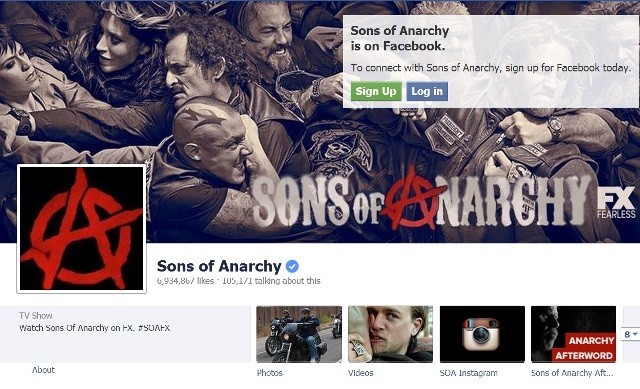 The shoot of gritty drama series "Sons of Anarchy" season 7 has finally begun. The major cast of the FX show - namely Charlie Hunnam, Kim Coates and Tommy Flanagan - were spotted filming in the city of Los Angeles, as per reports.
The shoot for the final season of enthralling biker drama had commenced on 29 May. Hunnam, who plays the character Jax Teller, was seen getting his hair gelled on the location, reported Epoch Times.
Apparently, Flanagan (Filip 'Chibs' Telford), Coates (Alex 'Tig' Trager) and Boone Jr joined Hunnam for a scene shot in a cafe.
Reports suggested that in the final season of "Sons of Anarchy", Hunnam will be seen filled with angst to avenge his wife's death.
Apparently show creator Kurt Sutter sits with Hunnam and discusses the possibilities of his character, in every season. Sutter even revealed in his official blog WTF that his favorite part while creating "Sons of Anarchy" is coming up with new strategies for Teller.
"We have lots of discussion before this season begins but he has the first two scripts now so will sit down and sorta have a Jax emotional part of discussion which is always fun," Sutter said regarding his brainstorming sessions with Hunnam. "It's kinda like my favorite part of the season, it's having that chat with Charlie."
Now that the production of the show has kick started, the cast would be soon seen creating mayhem on the streets of Charming city. Sutter has further stated that with episodes 1, 2, 3 ready for filming, scripts for 4, 5, 6 and 7 are underway.
"We are in the process of breaking episode 7, which is usually a big episode for us. It's sort of, it ends up being a, the same way a premiere sets in motion the bigger elements of the season, episode 7 tends to bring some of those things to some sort of conclusion then sets up what will ultimately be some of the bigger story elements that will bring us into the end of the season."
The final season has welcomed two new cast members. Marilyn Manson will be seen in the role of white supremacist Ron Tully, a prison shot caller. Hunnam's character will use him to expand his power base.
Also, Annabeth Gish, popularly known for playing Charlotte Millwright on "The Bridge", has been added as the new sheriff.
"Sons of Anarchy" season 7 will premiere in the fall of 2014.