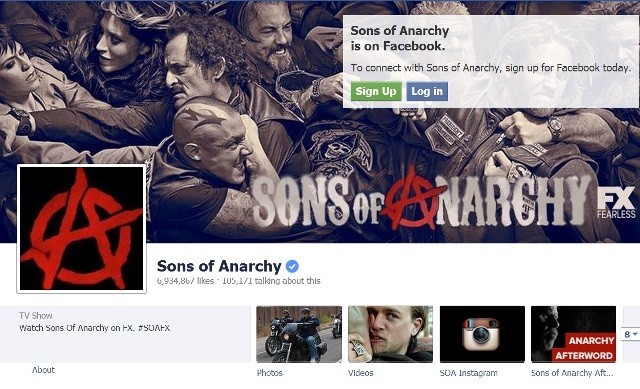 "Sons of Anarchy's" last season is all set for a September 9 premiere. The biker drama's one hour and 45 minute episode will be followed by live show, "Anarchy Afterword".
In a major spoiler it has been revealed that the show may begin 10 days after Tara's death.
"Jax in jail on a parole violation, grappling with the loss of the woman he loved. With the club's full support, he sets in motion the brutal machinations that will lead to complete and merciless retribution," reported TV Line.
Meanwhile, the maker of the show Kurt Sutter, recently suggested that there is going to be some extreme violence, as the episodes of season 7 progress.
"As I'm finishing my draft of 707, I keep hearing my mom's voice...'It's all fun and games until someone gets their head crushed by a car,'" he said in one of the YouTube updates.
In particular, episode 7 is going to have a whole lot of action happening.
"It's sort of, it ends up being a, the same way a premiere sets in motion the bigger elements of the season, episode 7 tends to bring some of those things to some sort of conclusion then sets up what will ultimately be some of the bigger story elements that will bring us into the end of the season," he suggested in one of his previous YouTube updates.
Furthermore, another surprise cast addition to the show is the "Glee" star, Lea Michele. She will play a character called Gertie who will connect with Gemma.
"Lea would play an empathetic truck stop waitress and single mother, who connects with Gemma during a difficult time," a rep for FX told E! Online.
Interestingly, it was Michele who broke the news of her appearance in "SOA".
"ll be appearing on an episode of my favorite show @SonsofAnarchy! Thank you so much @Harparbar & @sutterink #SOAFX," she tweeted along with a photo.
However, Michele's casting in SOA invited severe criticism with many fans feeling that she would not be able to break the sweet girl image she has built in Glee but Sutter completely trusts her and thinks she is a great talent.
"Glee girl? Trusting your brilliance here b/c this news sucks.Look beyond the song and dance, the kid has chops," Sutter tweeted.