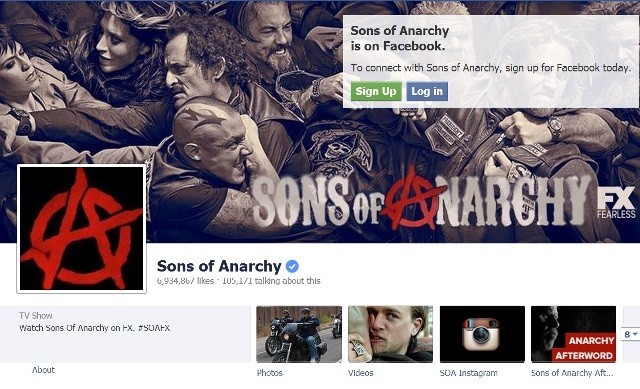 "Sons of Anarchy's" final season is all set to premiere on 9 September as per the reports. The biker drama may open its new season with 1-hour and 45-minute long episode before following it up with "Anarchy Afterword".
"Anarchy Afterword" is a live discussion session, which will be shown post the premiere and finale episode of the season to be hosted by Chris Franjola.
It is speculated that the first episode of "SOA" season 7 will begin after Tara's death. Jax Teller (Charlie Hunnam) is said to be dealing with his wife's death and may also be seen spending some tin in jai, as per the reports. The new season is said to be full of bloodshed.
Meanwhile, the creator of the show, Kurt Sutter was upset for not getting an Emmy nod for the series.
"There's a certain cachet that comes with being snubbed in all major categories. Repeatedly," said Sutter to Nikki Finke about being snubbed by Prime Time Emmy Awards. "It's the 'Lucci Factor.' You gain more fame, respect and admiration the more your efforts are ignored. If you win gracefully, you're famous. If you lose loudly, you're infamous. I, unfortunately, fall into the later category."
"SOA" has only got one nomination that is Outstanding Original Music and Lyrics for its soundtrack "Days Are Gone"
"I still suffer the emotional and spiritual depletion every July when 'Sons of Anarchy' gets zero nominations in all major categories," he further said about being not nominated. "While other f*cking shows that ran out of story three seasons ago, still get tagged to step up to the show."
The show may not have got Emmy nominations but fans will get to see its darkest side in the final season.
"We are in the process of breaking episode 7, which is usually a big episode for us," Sutter revealed in his video blog Sutterink. "It's sort of, it ends up being ... the same way a premiere sets in motion the bigger elements of the season, episode 7 tends to bring some of those things to some sort of conclusion, then sets up what will ultimately be some of the bigger story elements that will bring us into the end of the season."
"Sons of Anarchy" season 7 will air on FX.