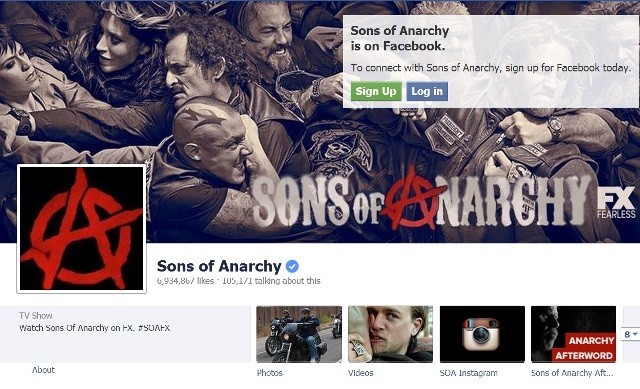 "Sons of Anarchy" team is ready to offer another nail biting experience with season 7. Amidst the buzz of the last season, the cast and crew of the biker series recently got together and shared behind the scenes photos and scenes from the city of Charming.
FX's Vice President of Media Relations Dominic Pagone tweeted photos from behind-the-scenes of "Sons of Anarchy", and the cast appeared to be having a ball at the shoot of the show.
One of photos shows Mark Boone Junior (who plays Bobby Elvis), Niko Nicotera (Ratboy), Charlie Hunnam (Jax), David LaBrava (Happy), Tommy Flanagan (Chibs) and Kim Coates (Tig) together. The actors look really deep seeded into their characters as smoke swirls around them.
Other photos from "SOA" behind the scenes throw light on Theo Rossi, who plays Juice, Katey Sagal, who plays Gemma, and Drea de Matteo, who plays Wendy.
Check out behind the scenes photos here:
Meanwhile, Maggie Siff whose character, Tara was killed brutally in "SOA" season 6, recently hinted about the season 7's underlying tone, suggesting that it would not be a happy and gay end for the people of Charming.
"It's an interesting question. It's hard to imagine Sons of Anarchy ending happily but I can imagine some kind of redemption for some people along the way, maybe," she dished to Zap2it.
It is also being speculated that Hunnam (Jax Teller) would be convicted for the murder of Siff's character and would be spending some time in jail.
However, the glaring question in fans' mind is whether Teller's mother Gemma would confess that she has killed Tara and how would Teller come to terms with losing his wife?
Buzz also suggests that Hunnam's character Teller would go through major emotional and psychological change in the last season.
Interestingly, show creator Kurt Sutter has recently revealed that no main character would die in season 7.
"It would be difficult if I got rid of characters like Tig and Juice and Chibs, especially with Opie gone. They feel like family to people," Sutter told Entertainment Weekly. "You have to be very careful not to be arbitrary in terms of who lives and who dies," he said in an interview to Entertainment Weekly.
"Sons of Anarchy" season 7 is set to premiere in September 2014. The show has already won numerous awards including Golden Globes and Emmy. The new actors to join the show include Marilyn Manson and Annabeth Gish.