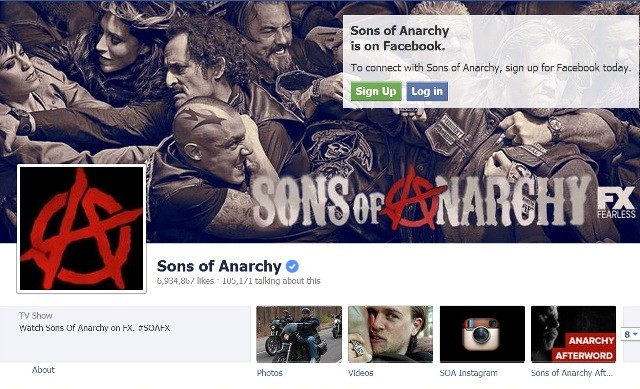 All set to hit the TV screens on Tuesday, "Sons of Anarchy", may give the viewers another dose of gritty action-packed drama with its final season. The season 7 episode 1 will begin with Charlie Hunnam's character (Jax Teller) seeking vengeance for his wife Tara's murderer, according to reports.
Teller's wife was murdered in "SOA" season 6 finale.
The episode titled "Black Widower" will show Juice (Theo Rossi) in a frightened state, as Teller goes out to find his wife's murderer. A party hosted by Cara Cara porn star may also be included.
For those who missed the finale, Juice had helped Gemma (Teller's mother) in killing Tara. Juice destroyed all the evidences of Tara's death and also killed Sheriff Eli Roosevelt.
"I'm not quite sure exactly where that's headed. Knowing that he's (Juice) betrayed Jax is not necessarily a place that you want to be in in the outlaw community... I don't think it was a calculated move on Juice's part [to save Gemma]; in the moment he did what was expected of him... But now the great thing is that we get this rich dynamic between the two of them. They were tied with the whole Clay of it all and now they're deeply tied with this secret... Now we have really something fun to play with," creator Kurth Sutter told TV Line about equation between Juice and Teller in Season 7.
Meanwhile, it also said that Teller might undergo changes emotionally as the season 7 reaches the end. Moreover, the last season is not going to have a happy ending as suggested by Sutter.
"You know, here's how I describe all this: It's a heavy world, it's a dark world but as heavy and violent as it is, I like to think that ultimately there is some sense of hope. So that it's sad and heavy, but there is always some sense of hope.Will it be a happy ending? No, but I do think that there will be something hopeful about the way it ends," he said in an interview to Screen Rant.
"Sons of Anarchy" season 7 will premiere on FX at 10 pm tonight. The premiere show of the last season of the popular TV series will be of 1 hour 45 minute. You can watch the live stream HERE.