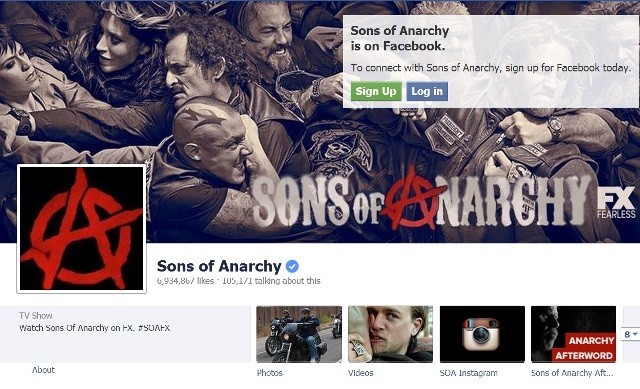 "Sons of Anarchy" is taking its final ride as season 7 nears the end. Showrunner Kurt Sutter recently revealed his plans for the season's finale and said that he plans to pick the right soundtrack that will do justice to the biker series' climax.
Sutter, who has shared his vision to the Charlie Hunnam's popular FX's series, said that he might stick to his plans on ending the show.
"I know how I want it to end, and that's the way I'm going to end it, and however it lands in terms of the landscape of things, that's the way it will land," Sutter told Entertainment Weekly. "As long as I know I'm telling the story that I intended to tell, then I know that I've been organic in terms of the narrative and didn't compromise the vision, I can feel good about it going in."
The recently aired episode 7 showed Bobby Munson's death. Munson was killed when he was on his way to meet Gemma. His death is yet to be confirmed but fans of "SOA" have already started tweeting about the character's death.
Munson, President of the "Sons of Anarchy" Motorcycle Clu, was killed as an act of revenge on Jax.
Here are a few Twitter reactions on Munson's death.
TJ Ponder @tvmovieland wrote, "I feel no pity for them. This is all karma and continuous stupid decisions coming back on them. They betrayed Marks first. #SOA#SOAFX"
liv naegele @livnaegele wroter,"I'm going to throw up #SOA#RIP"
Meanwhile, the synopsis of episode 8 has been revealed. The episode would be called "The Separation of Crows" and it is being speculated that Juice would be killed in the episode, as Jax has sent him on a sort of death mission to kill Lin.
"A traitor is suspected as SAMCRO searches for a missing member," goes episode 8 synopsis.
Moreover, Bobby's fate looks dark. He would be missing a body part or two if he he not dead, according to a report by Catermatt. "SOA" Episode 8 can be seen on FX, Tuesday, 21 October at 10 P.M or streamed online.